Portobello Brewery
Portobello - a Welsh connection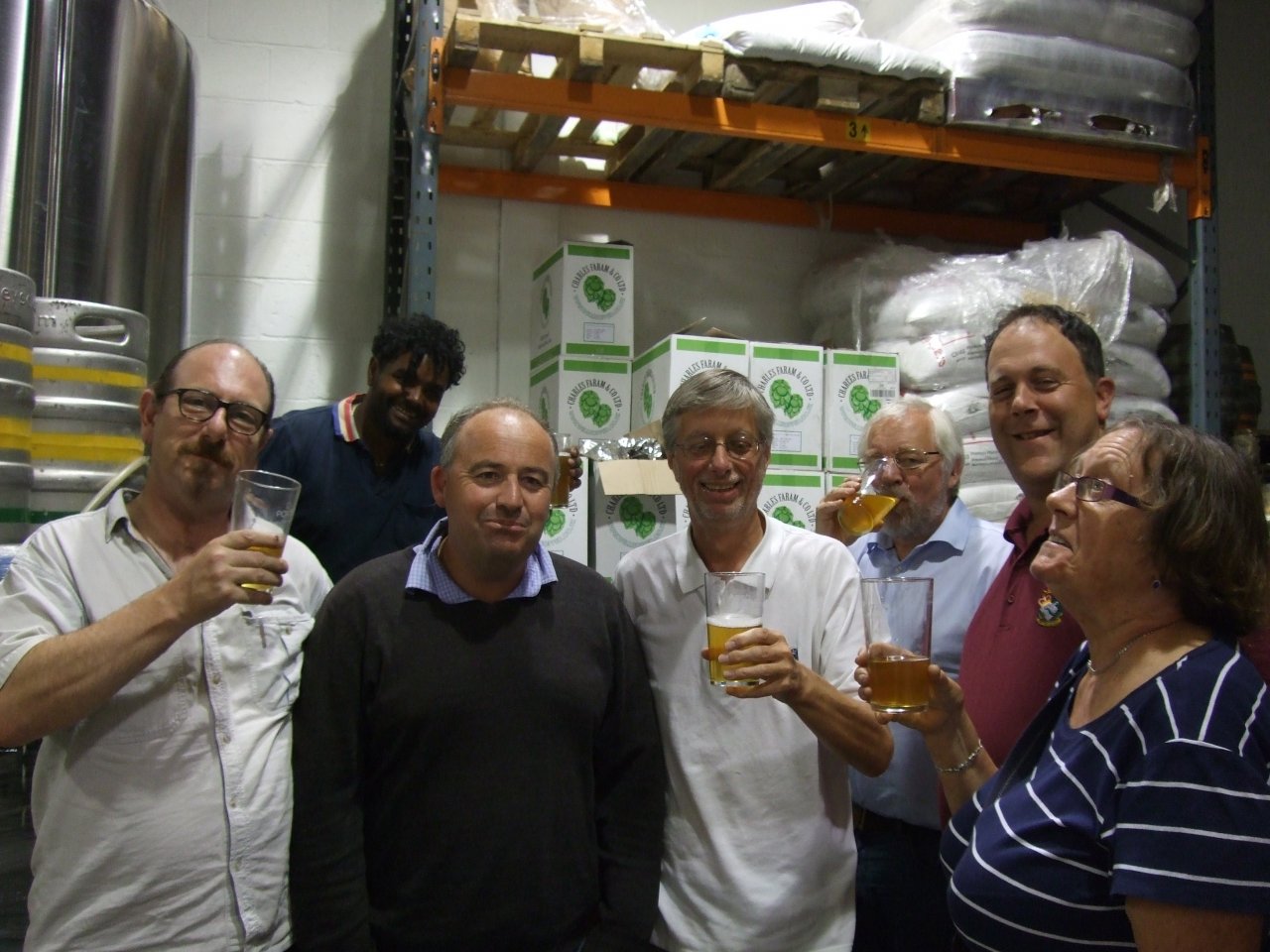 As part of its role to create the descriptions of all beer regularly brewed in London for CAMRA's Good Beer Guide, CAMRA's London Tasting Panel visited Portobello Brewery, near Wormwood Scrubs in West London.
Hidden away on a trading estate, Portobello was set up in December 2012 but the connection with brewing in the UK goes back much further. Rob Jenkins, the Sales Director, has in depth brewery experience having worked at Scottish & Newcastle, Whitbread, Brakspears, Young's and then Wells & Young's .
Whilst at the latter brewery, he tried to persuade them to set up a micro brewery but without success so in 2012 he left to concentrate full time on micro brewing. Rob had previously got involved with John Anstee (who had brewed at Young's) to set up the Kite Brewery, which launched in 2011. Despite his commitment to this Welsh brewery (in Carmarthan), Rob felt that the opportunities in the London were worth pursuing.
Rob approached Hills Prospect, a drinks distributor, to invest in the project. They were looking for someone to give them a craft keg London lager and Rob duly agreed and thus the idea of a London brewery became a reality. The contact with Kite Brewery remains. Portobello share some of the support functions with Kite Brewery thus reducing their overheads, a definite advantage. But, of course, Portobello need their own team. In total, there are six staff and Rob is supported by two with plenty experience: Tony Chapman, who is ex Hogs Back and Iain Masson, who has been brewing for 35 years, as the head brewer (who is also the head brewer at Kite).
Tony's deputy brewer is Farouk, who is married to Rob's sister. Farouk brewed for a while at Kite before coming south. The team's experience and contacts has helped the brewery get off to a great start with sales that have included Wolverhampton & Dudley and Nicholsons but like all small brewers, the challenge is to get pubs to list their beers every week. Their website will cover their regular outlets in due course: www.portobellobrewing.com.
Currently, there are five regular beers plus seasonal and specials. Their keg beers (which include the lager) are double filtered rather than pasteurised. All of the real ales have a combination of UK and imported hops. The regular real ales are:
Pale (4%ABV, 1040 ): Golden, well balanced best bitter with a citrus character and some spiced hops. There is a little malty sweetness that fades in the finish, which is clean and dry. The hops are Celeia, Challenger, Golding and UK Cascade.
VPA (Very Pale Ale) (4%ABV, 1041): Lemon in colour, this is a refreshing best bitter with citrus fruit throughout and a little peppery hop and biscuit notes. The bitterness builds on drinking with a dry aftertaste. This beer used both the American and UK Cascade hops.
Star (4.3%ABV, 1044): Bitterness and fruit on the palate with a malty sweetness that is present throughout this pale brown best bitter. There are some hoppy notes in the flavour and a trace in the aroma. A little peppery hop in the finish. The hops are Brambling Cross, Cascade and Golding.
APA (American Pale Ale) (5%ABV, 1050): Full bodied strong ale with a honey sweetness and some soft citrus fruit balanced by a bitterness and hop character. Dry aftertaste. There are six hops in this brew from the UK and America including Challenger and Amarillo to the less usual Eldorado.
Market Porter (4.6%ABV, 1047): Coffee on the nose, flavour and finish combined with sweet raisons, blackcurrant and a trace of liquorice and black treacle. Easy drinking with a dryish finish. The hops are Brambling Cross, Challenger and UK Cascade.