Weird Beard (and Ellenberg as was)
This article was written before Ellenberg ceased brewing in the first quarter of 2014. We have kept it here as an historic record and,of course, Weird Beard are still going strong.
To share a brewery takes a certain sort of personality and fortunately, brewers seem to just the right sort of laid back personalities to make it work.
Mike, Greg and Brian all met through the London Home Brewing Club and hatched a plan to one day brew commercially. The cost of setting up a brewery is not cheap so they came up with the idea of sharing one. But the idea and reality was not that easy. Despite having perfected many of their recipes at home, the premises did not prove easy to find. It was after many months of searching they found a property in Hanwell, moved in at the end of 2012 and started brewing early in 2013.
Some of the kit is owned by Weird Beard and others bits by Ellenberg. There is also a joint company called Anthill that pays the rent, rates etc. And it seems to work. It is a 10 barrel plant with 6 fermenters. The kit is capable of stepped mashing although neither brewery has started to play with this yet.
Mike Ellenberg decided to follow his passion after being made redundant from the BBC. He commented that setting up the brewery meant he spent a long time plumbing, quite different from his previous job. Mike's beer are mainly influenced by German beer styles. They are all bottled conditioned (hand bottled) with no finings or artificial additives. His outlets are biased towards delicatassens, shops and online retailers rather than pubs. Ales by Mail are one of the people who stock the beer.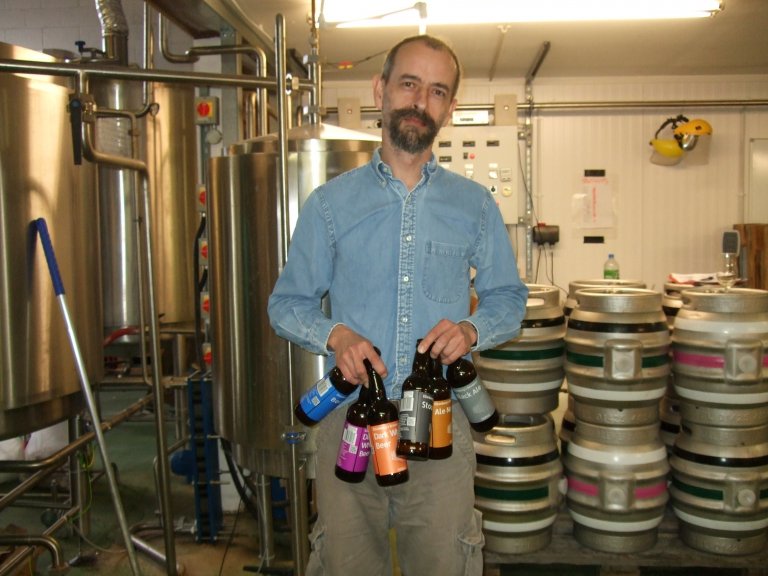 Although Weird Beer also do bottled beer, they also do cask. Greg and Brian ran into a 7 foot tall Scandinavian home brewer, who also started brewing professionally and from there developed an export market, which now accounts for around 8% of their sales. Weird Beard's brews are inspired by the USA and their untraditional approach is reflected in the beer names, which are heavily influenced by Metallica. Their main outlets are in London and Manchester and to service these, they are brewing around twice a week and employ three part time staff to do the delivery and help generally with brewery including the bottling, using the same plant as Ellenberg.
The London Tasting Panel tasted the following beers (all bottled):
Ellenberg:
Stout (3.85ABV): Caramel and roast aromas with black coffee flavour and hints of caramelised fruit and toffee. The aftertaste is of black roast and a bitter dryness that lingers in this easy drinking black coloured stout.
Dark Wheat Beer (5.0%ABV): Inspired by the German Dunkel Hefeweizen style, this brown beer has roast notes on the nose that is also present in the flavour with some malty sweetness and fruit that is also there in the aftertaste, which is slightly dry. It uses Northern Brewer hops and the dark colour comes from Caramel Special Number 3.
Ale No. 1: (5.4%ABV): Saaz and Northern Brewer (for the bittering) give some peppery and slightly floral hop character, particularly in the aroma and flavour. This is balanced by some fruit and a honey sweetness. This dark gold beer was the first recipe that Mike developed, thus the name.
Black Ale (5.7%ABV): Based on a German Schwarzbier, there are peppery hops and some sweet black treacle. There is a roast character on the nose and finish with some bitter dryness. A little blackcurrant comes through in the aroma due to the Brambling Cross hops. The malts include Vienna and Munich alongside Pale and Crystal. Much of the colour comes from the caramel.
Bock (6.4% ABV): A brown beer using a combination of malts and wheat as well as rye. The hops are Amarillo, NB and Sorachi Ace. This creates a beer with malts and fruit in the aroma. The flavour has a toffee sweetness with a little citrus fruit that fades in the creamy finish balanced by a dry bitterness. Banana is also present.
Dark Smoked Wheat Beer (6.6%ABV) Smoked malt on the nose but is more pronounced in the flavour and lingers in the finish. The fruity character with roast and malty sweet overtones produces a pleasantly drinkable beer. It is based on a Dunkel Hefeweizen.
Weird Beard:
Black Perle (4.5% ABV): A coffee milk stout (it contains lactose) with roast notes throughout this full favoured sweetish black beer. The honey character is present in the finish with some black roast bitter dryness. Some fruit on the palate. The coffee beans are added in the fermenter.
Mariana Trench (5.5% ABV): Passionfruit and citrus are noticeable throughout this golden beer that uses both New Zealand and American hops. It is malty sweet with a touch of honey on the palate and aftertaste, where the bitterness builds and lingers overlaid by dryness.
Camden Beard (5.5%ABV): Grapefruit and spicy hop flavours intertwine with honey, biscuit and a little bitterness. The finish is dry with a lingering spicy hop. The beer contains wheat, pale malt and Munich, which produces a brown coloured beer. The hops are all American (Cascade, Willamette and Centennial.
Fade to Black (7.3%ABV): Citra, Summit and Sorachi Ace hops give a little fruitiness in this balanced black IPA. The beer contains some crystal rye and chocolate malt, which gives roast coffee notes throughout.