Truman's Eagle nests in East London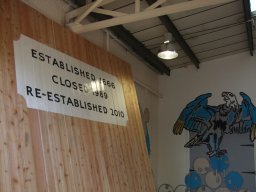 If any name can be associated with London brewing, it is probably Truman's. Founded in 1666, the brewery has gone through a number of changes including being taken over by Watneys and then Grand Metropolitan. Finally, despite being known for its traditional brown ales, the brewery finished its days brewing Carlsberg.
But some things do come back from the grave. James Morgan and Michael-George Hemus thought it was a shame that there were plenty of pubs displaying the Truman name but not a Truman's beer in sight. They began to talk to S&N about the use of the Truman brand and, although things were set back a bit when S&N was taken over by Heineken. Eventually, through sheer determination, they persuaded S&N to let them have Truman name in perpetuity.
Initially, to test the market, they got Nethergate (in Essex) to produce their beer and then, as demand grew, they moved the brewing to Everards (in Leicestershire). So having decided that there really was a market, they set about finding premises in East London. The area they chose is a microcosm of London brewing; on the estate where Truman's settled is Beavertown and just around the corner is Crate.
With Truman's logo being the Eagle, the choice of the brewery name came easily, and thus The Eyrie Brewery was born in two units on a small industrial estate. It is a 40 barrel plant with a 200 barrel fermentation space and their own malt mill, enabling them to crush the grain themselves rather than bring it in crushed. The yeast is a genuine 1956 Truman's strain that they sourced from the National Yeast Bank. There is no doubt that this yeast has a character of his own, preferring a longer mashing time than most yeasts to get the most out of it. There are eleven staff brewing three times a week and delivering their beer mostly within London and the M25; they currently do all the deliveries themselves, preferring (at least for the moment) not to use wholesalers.
The head brewer, Benedikt Ott, has a German/British heritage and is a certified Braumeister. He previously brewed at Purity, Black Country Ales and, more latterly, London Fields. Truman's aim is to produce balanced beer, predominantly in draught form but they have recently produced a one off bottled beer, London Keeper in 750ml champagne bottles. Basing it on an 1880 Double Export Stout recipe, the beer uses American hops, Willamette and Sterling. The label is also quite unique, using a local printer using a printing press from the 1950s. The London Tasting Panel had the chance to taste this and their other brews on a recent visit. London Keeper is rich and warming but remarkably easy to drink despite its alcohol content of 8% ABV (alcohol by volume). It has roasted chocolate/coffee and treacle notes and a sweetish, lingering finish. With only 2,500 bottles, get one before they go!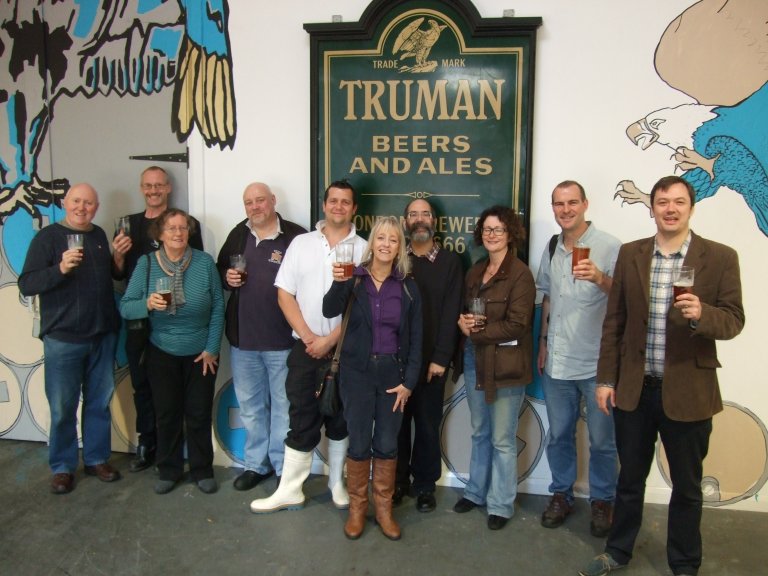 Truman's more regular beers are: Swift (3.9% ABV): A well balanced golden bitter with hops and a trace of grapefruit on the nose and palate and a bitter finish. The malts are Maris Otter and Munich and the hops are Cascade, Saaz and Challenger.
Runner (4.0% ABV): A brown best bitter with a complex blend of malts including Maris Otter, Rye, Munich and Chocolate Malt. There is a spicy hoppy aroma and flavour that fades in the aftertaste, which is dry. There are some marmalade notes. The hops are Fuggles, Goldings and Styrian Goldings.
Bold as Brass (4.2% ABV): This is Truman's autumn seasonal beer. Pale Brown in colour, there are Wheat, Rye and Munich malts, which, coupled with the Southern Cross, Brewers Gold and Magnum produce complex flavours. There is a honey toffee sweetness, overlaid with some soft fruit and a little apple.
Attaboy (4.6% ABV): A golden ale with citrus and a lime marmalade fruit. A bitter finish grows on drinking balanced by a little lingering sweetness. It contains Maris Otter malt, Calypso, Chinook, Centennial and Magnum hops. The Centennial is also used to dry hop the beer. This beer is proving to be so popular that, although it is a seasonal, it may well go to permanent.