Taking the Bull - By the Horns Brewery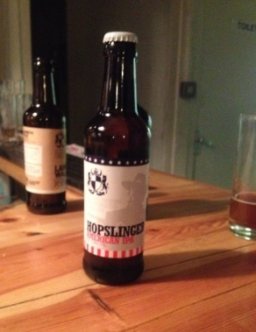 Coming up with a good name for a brewery takes some thought but sometimes it's just serendipitous. By the Horns got its name when two friends, who met at Bristol University, Alex and Chris, shared a house. They were at the Great British Beer Festival and had a few beers they didn't like and thought they could do better so they started home brewing. After a lot of talking, they finally decided to 'Take the Bull by the Horns' and set up a brewery! The London Tasting Panel popped into see them and find out more.
Alex and moved into their premises in Summerstown, South West London in August 2011 and started brewing the following month on a five and a half barrel plant. They currently have 5 five and a half barrel fermenters and one eleven barrel fermenter. Two thirds of the money to pay for the brewery they raised themselves; the rest coming from friends and family. The brewery supplies around 200 outlets plus a number of off licences for their bottled beer (micro filtered), including Oddbins who they say have been very supportive.
When they first started, they were still holding down day jobs; Alex for an oil company and Chris in overseas procurement. Thus, they had to brew after work. This created one incident when late one night, the neighbours saw smoke and the police came to investigate 'the fire' only to find it was the steam from the boiling!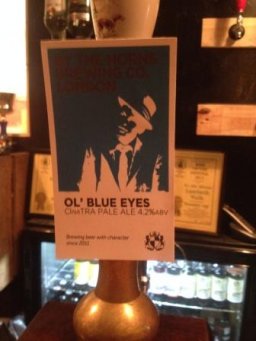 Nowadays, they brew about 4-5 times a week, sometimes with a double brew at peak times. The By the Horns' popularity means that they have had to expand their premises, which now occupy two units close to each other. The original building hosts a small bar, which is open Thursday and Friday evenings 5pm-10pm and Saturday 12-6pm. Seating is provided outside when the weather is warmer.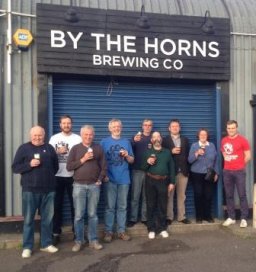 Cask beer is around 85% of their sales and, as well as bottled beer, they do keg and have 2 seven barrel conditioning tanks. For distribution, they use Ecofass, which are reusable key kegs with replaceable inners. The beer is pushed out using CO2 or air, which means it does not come into contact with the beer. Some of the products do have some secondary fermentation. The London Tasting Panel tasted several of By the Horns' beers and here are their descriptions.
Stiff Upper Lip 3.8% ABV: An easy drinking, sweetish, pale brown bitter, made with an interesting combination of hops: American Sonnet and Cascade plus English Pioneer, which gives some apple, citrus and tropical fruit notes. There is a little bitterness on the palate and some fudgy malt. The bitterness builds with a dry finish. The malts are Maris Otter, Munich, Caramalt, Torrified Wheat and Wheat.
Ol' Blue Eyes 4.2% ABV: Seasonal dark gold beer, nick named 'Cinatra Pale Ale'; it uses mainly Citra hops and a little Columbus for the bittering. Maris Otter, Munich and Caramalt create a honey sweetness that is balanced by some bitterness dryness. Citrus and peppery hops are also present.
Mayor of Garratt 4.3% ABV: Traditional best bitter using British hops (East Kent Goldings and Fuggles). Named after the tradition of electing a 'Mayor of Garratt' held in the 18th century. These mock elections were held at the same time as the Parliamentary elections giving an opportunity to voice opinions at a time when only a small number of people had the right to vote. They were reported to be riotous affairs. The smooth beer has some citrus on the palate, a biscuity maltiness and a long dry finish with a little bitterness. Some spicy hop character.
Lambeth Walk 5.1%: Black/brown porter with a creamy mouthfeel. Caramelised fruit and chocolate aroma with liquorice in the flavour and finish with a roast character that lingers in the dryish finish. The hops are First Gold and Sonnet and the malts were Maris Otter, Chocolate, Brown and Amber.
For more information on By the Horns see: http://www.bythehorns.co.uk/.
The London Tasting Panel members provide descriptions on beers brewed in London on an ongoing basis. If you think you have the time and inclination to participate, there are a few places still left for the next training course, which takes place on Saturday 12th July from noon. For details see: http://www.london.camra.org.uk/viewnode.php?id=7672.