Not a wheel in sight!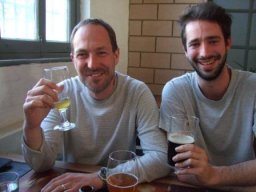 'Without question, the greatest invention in the history of mankind is beer. Oh, I grant you that the wheel was also a fine invention, but the wheel does not go nearly as well with pizza'. This quote by Pulitzer Prize winning American, Dave Barry, is clearly close to the people behind the Crate Brewpub where beer, brewed on the site, is sold along a fine range of pizzas attracting a mixed clientele who come for one or the other or, often, both!
This mix of delights came about when Neil, ex BBC, decided that he wanted to start brewing. Through family connections, he was put in contact with Tom and Jess, who conveniently were keen to set something up with food and so the idea of brewpub/pizzeria was born. Six months after they met, they moved into is an old warehouse in Hackney Wick that was once a print factory. Before that, it had been a sweet factory, which once spanned the canal that runs alongside the building. The open canal side area now provides a pleasant outside space to eat and drink and moorings for the Crate barge, that provides an additional 52 seats and a stage for their live bands.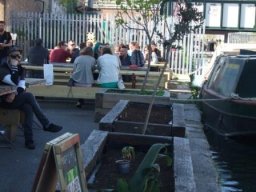 It all came about as a result of the Olympics when the area was being developed and the developers wanted to include somewhere to eat and drink, providing a hub for the local artist community. This is now the biggest concentration of artists in Europe with many of the warehouses providing living/working spaces. Even the upstairs of the pub is a gallery.
The pub and brewery have been up and running for two years and their 'no frills' approach fits their premises beautifully; their custom has just grown and grown. Neil reported that they were run off their feet from day one and have only ever done two days selling and that was at the end of January when they added 16 accounts to their list. They are constantly balancing supply and demand even though they added a 10 barrel brew plant in a 'Brew Shed' across the road to complement the 5 barrel plant in the pub itself. The latter is now described as their 'fun kit' being used for brewing one offs, collaboration brews and seasonal beers whilst the bigger plant does their regular beers. Crate currently have two 5 barrel fermenters in the Brewpub and four 10 barrel and two 20 barrel fermenters in the Brew Shed. Four more 20 barrel fermenters have been ordered and when they arrive, they will increase their brewing from once a day, four days a week to twice a day. They hope too that this will give them the extra capacity to increase their conditioning time from 11 days to 14. In due course, they are also intending to install a kegging line to enable them to do key kegs, some of which they intend to export to Ireland.
Their regular beers are a lager, golden ale, IPA, best bitter and stout. We also tried a Pale Ale on our visit. Their main pale malt is Concerto, rather than the more usual Maris Otter or Pearl, and this is used in all their beers. Their bottled beers are all bottled in Cumbria and are micro filtered rather than pasteurised. Shaun McNamara, the brewer, said they are still tweaking some of the recipes but this was what the beers tasted like when we visited: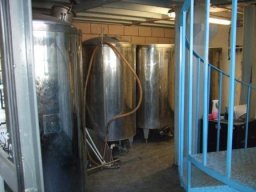 Golden - 3.8%ABV. Honey on the nose that is also present in the flavour. Spicy hops are balanced by some lemon fruit. The finish is dry and lingering. The hops are Pacifica, Citra and Challenger and, in addition to the pale malt, are Pale Crystal and Torrified Wheat.
Best Bitter - 4.3%ABV. The colour of this pale brown beer comes from the Crystal and Black malts. The hops are Challenger and Brambling Cross and the later gives a trace of blackcurrant in the aroma. The flavour has some roast and nutty notes with some caramelised malt character. It's soft drinking with a dry finish.
Pale Ale - 4.5%ABV. This beer is being tweaked as the original recipe used Nelson Sauvignon hops but the hop variety became so popular that suddenly there was none available. The golden coloured beer we tasted used Cascade and Amarillo and had a green grassy aroma with fruit and green hops on the palate with some biscuity malt.
Stout 5.8%ABV. Black malt, Crystal and Roasted Barley creates a rich creamy smooth stout with roast, raisins and a little black treacle. The finish is dry and there is a hint of burnt malt bitterness. It has just one hop, Challenger.
IPA - 5.8%ABV. Toffee and sweet citrus fruit are noticeable throughout this amber coloured beer, which has a fruity hoppy aroma. Three hops are used: Cascade, Magnum and Chinook with Cascade being used twice, once for dry hopping.
Crate pride themselves on their interest in good food and beer and every weekend there is a food festival in the car park, featuring some of the best food trucks. From mid June until the end of August, this will be expanded and will feature 'some interesting London and international beers' (http://www.cratebrewery.com/).
If this has wetted your interest, then why not bid for a place on a trip around three breweries on Saturday 13th September (other breweries are Truman's and Tap East). Places are being auctioned each session at the Great British Beer Festival. See http://gac.camrabeerengine.org.uk/ for more details (postal bids are accepted). Promises to be a good day.