Brew Wharf
A Deft Brew Wharf - Dedication, Experimentation, Fun and Tasty
The history of the Brew Wharf Brewery in Borough is a little more unusual than most. It is the off shoot of Vinopolis, the wine bar/restaurant and museum, which set up in 2005. A couple of years later the owners decided to start a pub brewery. The current brewer, Angelo Scarnera, grew up in Texas and started as a brewer's assistant with the previous brewers, Phil Lowry and Steve Michigan. The trio were keen on brewing beers in the style of those they drank in the USA because they missed them! Brew Wharf was probably at the forefront of the American taste revolution especially in London.
Eventually, Steve went back to the USA and Phil, who was an account manager for Cave Direct, decided he could not do two jobs and Angelo took over.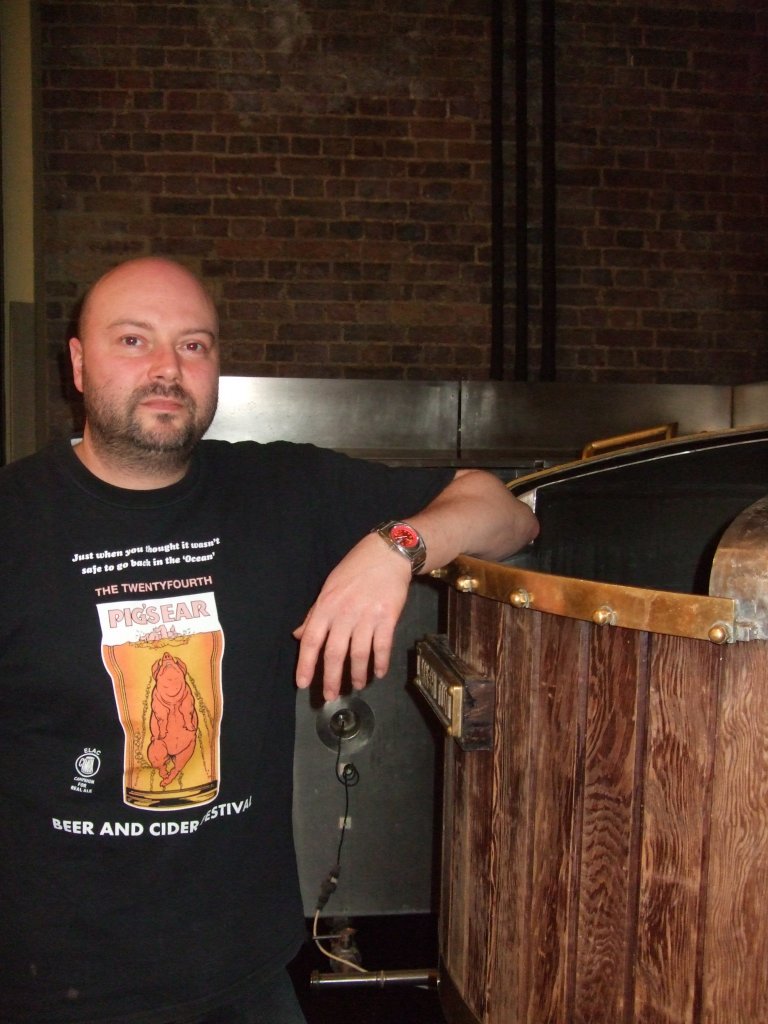 Angelo brews once a week and usually all the beer is sold in Brew Wharf through two handpumps on the bar. The brew length is five barrels with two fermenters. Unlike some pub breweries that store in tank, Brew Wharf puts all of its beer into cask and with the turnover, Angelo can ensure that the beer is always fresh but he also has some space for to store beers that need maturation if needed.
Over the course of the year, Angelo estimates that he must have brewed at least 50 different beers. Each brew is unique, using different malts and/or hops and Brew Wharf occasionally do collaboration brews including with nearby Kernel and East Londoners, Brodies. Angelo feels that there are many breweries now experimenting with different hops, that it is time to move on and break the next experience in taste. If that sounds pretentious, that is exactly what Anegelo and Brew Wharf are not. He is just like the best chefs, trying different combinations of ingredients to get that wow factor. And there is no doubt that Angelo's experience, enthusiasm and his love of beer will ensure that there are many more hits than misses. He recently brewed a Red Rye beer and a Cream Ale using a lager yeast and 10% maize and a range of Eastern European hops such as Junga are being trialled; the hops are usually from Charles Farram . A Whitbread dried yeast is the stock yeast but yeasts are chosen for the beer style and so yeasts from the USA and Belgium are not unusual and there was a yeast from Dark Star for a Saison beer. Brewing in such a small space does give Angelo some challenges. The kit is from an old Firkin pub. Fortunately, Angelo studied engineering and his practical experience has been really helpful in keeping the brewery going. Just don't mention the hot water!
If you would like to meet Angelo and visit the brewery, Brew Wharf and two other London breweries, Sambrook's and Kernel, are hosting a unique three London brewery visit on Saturday 8th September. Each session a place will be auctioned at this year's Great British Beer Festival at Olympia (7-11 August).
If you can't make the Festival but would like to bid for brewery trip, send your postal bid to moc.tenapus@nitsuab or phone: 01923 211654 (answerphone) or you could enter the London Drinker crossword competition in this magazine. For full details of the itinerary see London City of Beer. Should be a day to remember!
Christine Cryne