Regional Pub & Club of the Year 2015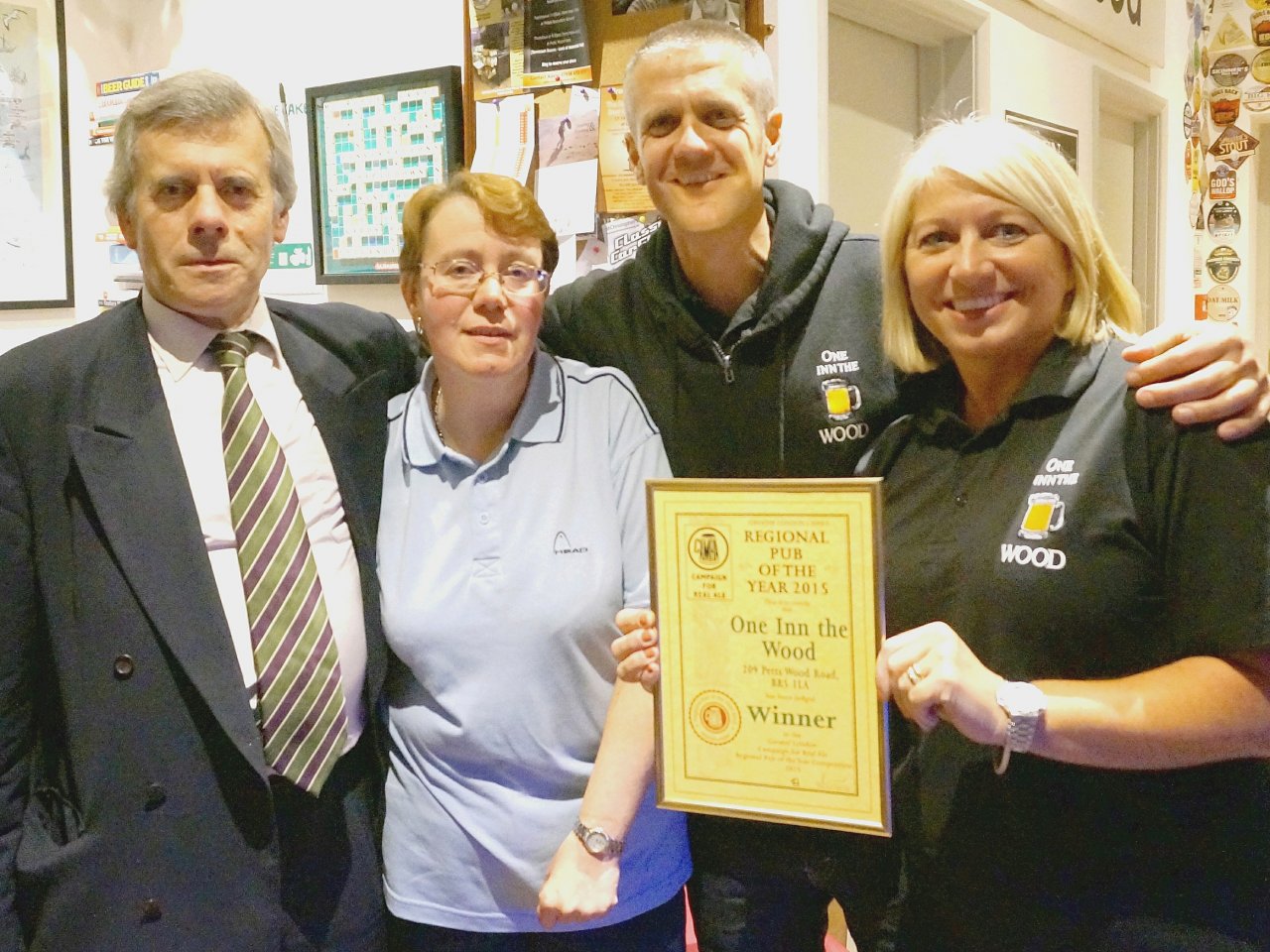 Each year Campaign for Real Ale members across Greater London review pubs and clubs to find the Regional Pub and Club of the year, and in 2015 both awards have gone to local bars in the London Borough of Bromley.
One Inn the Wood, a local micropub in Petts Wood, has scooped the prestigious Greater London Pub of the Year award. The pub, which only opened its doors in 2014, is run by former city workers Barry and Sarah Bridge. It specialises in serving locally produced real ales as well as Kentish wine and cider. At the counter you can see into the cellar room behind and watch your beers and ciders being served straight from the barrel. Conversation is the order of the day, there being a charity fine box for mobile phone use and no electronic entertainment. Barry and Sarah said: "Being named the greater London Pub of the Year is an amazing achievement for us. The micropub is a fantastic concept, and we've just put our little spin on it. Our customers really make the place what it is, so a bit of a cliche we know, but this award is for them."
Just ten minutes away, Orpington Liberal Club has won the CAMRA Greater London Regional Club of the Year award for the second time, having previously won it in 2013, when it went on to become a National Club of the Year finalist.
Club Chairman Duncan Borrowman said: "The award is a testament to all of the volunteers who keep the bar running seven days a week serving a great range of real ales to an ever growing membership."
CAMRA Regional Director Geoff Strawbridge said: "I think it is unprecedented to have the regional Pub and Club of the Year in the same borough, and even more remarkable that they are a stone's throw away from each other. The Bromley CAMRA Branch was only formed in 2011, and in short time has seen not only its membership grow massively, but also the quality of real ale on offer locally blossom with venues like One Inn the Wood and the Orpington Liberal Club. My congratulations to them both and best wishes for them as they go on to the superregional and then, I hope, the national competition."
The growth of micropubs - from zero ten years ago to a predicted 200 by the end of the year - has helped to get real ale into spaces a traditional pub couldn't fit, filling the gaps on our high streets and improving choice for beer drinkers.
Roger Protz, Editor of the Good Beer Guide 2016 says: "Micropubs prove the old saying that 'small is beautiful'. Many of them are based in disused buildings, they have low overheads and can offer beer at sharper prices than many traditional pubs. They have carved out a new relationship between drinkers, publicans and brewers."