The Exotic Moncada
Earlier this year, CAMRA's London Tasting Panel went to visit the Moncada Brewery, which has two exotic owners. Julio was born in Argentina but his surname comes from his grandfather, who was Catalonian, and his wife, Eleonora, is from Greece. So what made the couple start a brewery in West London?
Originally they came to Britain to study. Eleonora is a microbiologist and Julio trained in industrial design but he wanted a different career and started to train as a chef. However with a baby, 16 hour days were not thought to be very practical and so the idea to set up a delicatessen was born. They then thought of starting a small brewery to supply the shop and Julio went on a course at Brew Lab in the North West.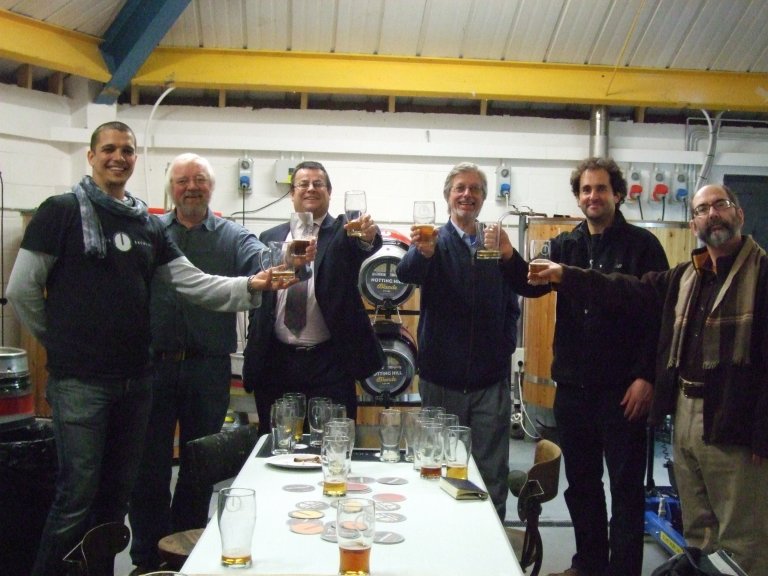 However, things did not go to plan. After the course, Julio was hooked and all he wanted to do was brew. Julio said initially his wife was not too pleased and it took some time to persuade her but he said he couldn't have done it without her support. 'She is the organised one' he stated. Her background is, of course, useful too when it comes to brewing.
At the moment they use dried American yeast for their brews but in the longer term, they would like to have their own yeast strain. The premises that house the 6 barrel plant are immaculate and creatively designed to use every bit of the small space available in an efficient manner. The plant was from David Porter and consists of two fermenters with another two having been purchased but these will not be installed until the brewery moves around the corner, which is due in the autumn 2012. The new building will be three times the size, allowing for growth and a five year lease, allowing for security of tenure.
Moncada Brewery took about seven months to set up and the beer was launched last autumn at the London Brewers Alliance event at Vinopolis. The first customer was in Egham. Gradually the outlets are growing and his beers are sold in draught and bottled forms, both real, letting the Brewery to take advantage of both the on and off trade. All of the bottles are hand filled.
There are currently three beers being regularly brewed. Future plans include a porter and possibly a special called Carnival to celebrate the event that takes place not far away in Notting Hill! Julio now feels that he is in a position to build up his London trade so drinkers should see more of his beers in future.
The current outlets include: Bricklayer's Arms, SW15; Defectors Weld, W12; Doric Arch, NW1; The Duchess of Cambridge, W6; Hoopers Bar, SE5; The Hope, Carshalton; The Jolly Butchers, N16; Kris Wines, N7; The Ledbury, W11; The Rake, SE1; Raoul's Restaurant and Bar Notting Hill, W11; Sebright Arms, E2 The Snooty Fox, N5; Southampton Arms, NW5; Strongroom Bar, EC2A; United Services Club, TW20 and The Wenlock Arms, N1. You can sign up to be kept up to date with the brewery at http://www.moncadabrewery.co.uk/
The following is how the Tasting Panel described the beers. Needless to say, the bottled conditioned versions were higher in carbonation and it was noticeable that this reduced the perceived sweetness.
Blonde 4.2% ABV: This is a continental style yellow beer using Pale and Munich malts and Celeia and Hallertau hops. It has a smooth mouthfeel, sweetish with a touch of honey. Floral hops on the nose and palate fade in the aftertaste, leaving a dry bitter character with a little spiciness.
Bitter 4.3% ABV: Here Pale and Munich malts, with some roasted barley, are used to create a brown coloured beer that has a sweet biscuit flavour. The same hops (Celeia and Hallertau) again create a dry bitter flavour and finish with a little fruitiness.
Amber 4.9% ABV: Although this beer again uses Pale and Munich malts with some roasted barley, the hops are Amarillo and Cascade, both of which are noted for their strong citrus character. The result is a beer whose drinkability belies its strength. It is a full bodied creamy amber coloured beer with the citrus aroma and flavour well balanced by the sweet slightly toffee maltiness and a bitter dryness that lingered. There is a little flowery hop throughout.