Mad March Cider Festival
Bromley CAMRA's one day only Mad March Cider Festival on Saturday (9th March) was a massive success with the festival having to close early as the 400 litres of real cider and perry were finished by 7.30pm. As soon as the doors opened at noon thirsty real cider fans and curious newcomers to the proper stuff came from far and wide and flocked into the HG Wells Centre, Bromley, to sample the thirty real ciders and perries on offer. The demand at the bar was constant and the hardworking bar staff didn't get any down time until the very last drop had been squeezed out of the boxes.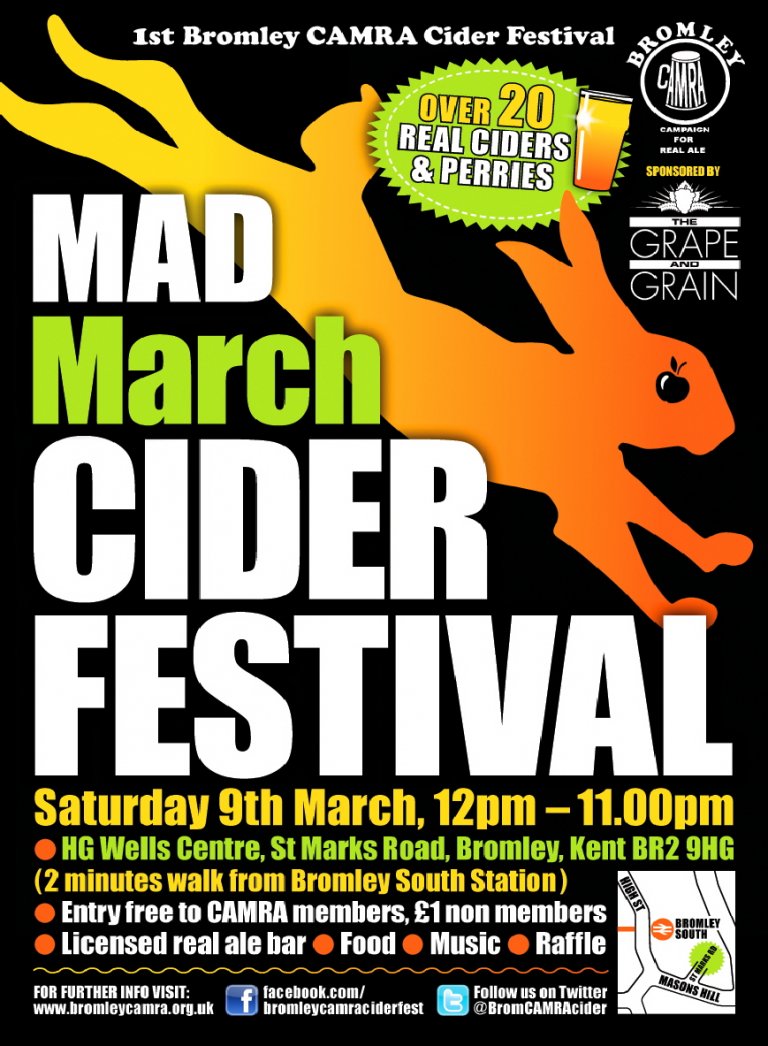 This was Bromley CAMRA's first cider and perry only festival and as only a handful of pubs in the borough sell real cider, an attempt to introduce the people of Bromley to these fine drinks.
Initially quite a few people were sceptical of the idea of a cider and perry only festival in Bromley and in March, what with many pub landlords saying 'Got a box of the stuff in once and nobody drank it' and 'cider's a summer drink', Bromley branch were even asked 'why they were even bothering?' Fortunately a core of Bromley branch members had faith and with the help of a good publicity campaign, sponsorship from one of the few pubs in the area that fly the flag for real cider and perry: The Grape & Grain in Crystal Palace, and backing from some cider producers themselves, the festival became a reality.
With the festival, Bromley CAMRA more than achieved their goal, the feedback from visitors to the festival has been nothing but positive, with new converts to real cider and perry and existing drinkers impressed by the good range of ciders on offer and just the general good vibe of the festival. There's no stopping Bromley CAMRA now as on top of the branch's second beer and cider festival which is in planning at the moment, there are plans for a second real cider and perry only festival which will be even bigger and better! Watch this space.