News Archive
12 October
Grace Land has acquiring two new sites having bought bar restaurant Verden in Hackney and Jan's Bar in Stoke Newington. As a partner of Barworks they currently operates the Black Heart in Camden Town, the Earl of Essex in Islington, and the Kings Arms in Bethnal Green. Verden will reopen as the Mermaid. Jan's Bar is owned by the Wellington Pub Co but was leased to a private vendor.
Tom and Ed Martin, owners of ETM Group, have launched Burdock, a bar at the new Royal London House hotel in the City. The Finsbury Square bar features four overhanging tank beers from their Long Arm Brewery as well as guest craft ales.
A private UK investor has purchased the the freehold of the Ship in Mortlake from Henderson Global Investors for £4,525,000. It is let to Greene King until March 2044 as part of their Taylor Walker brand.
Dirty Martini is taking over the former Mary Jane's site on Minories in the City with the opening date set for tomorrow, 13 October. Don't expect any draught beer, never mind real ale, if any of there other venues are anything to go by.
Redcomb Pubs has purchased The Old Shades in Whitehall from Faucet Inn.
Greene King's Metropolitan Pub Company reopened the Victoria Inn in Peckham on Monday. The 1878 pub has been subject to a major refurbishment but retains the horseshoe bar. The 100-cover restaurant will offer a variety of dishes.
The remaining 9 years on the lease on the huge Star & Garter pub and restaurant on the Thames in Putney is for sale. The pub has two bars, a ballroom and 13-bedroom for staff accommodation as well as the manager's flat.
Andy Bird, saviour of the Chesham Arms, has taken on his fourth site - the Dartmouth Arms. The Kentish Town pub closed on 31 January 2015 when Faucet Inns sold the building for conversion into flats. Following a much publicised campaign, the lease of the ground floor and basement was put on the market as a a 'lockup'. The free of tie rent is said to be £70,000 per annum. Bird has started a three-month refurbishment of the site and is talking to the locals about what they would like to see from the reopened pub.
Kornicis Group has launched its We Are Bar concept at the former Jamies wine bar on Bishopsgate and plans to convert two more venues in the near future.
Enterprise joint venture, Hippo Inns, has opened The Islington Townhouse on the corner of Chapel Market and Liverpool Road. Spread over three floors, the pub boasts a large bar area and a dining area upstairs. The handpumps have spade style handles.
Antic opened the Shelverdine Goathouse on 29 September in South Norwood having taken over the lease of the William Stanley from Wetherspoon in March. Antic has more than 40 pubs in London and continues to expand.
The Columbo Group has reopened the Barfly as The Camden Assembly following £1m investment. The venue provides live music seven nights a week. Founded in 2006, The Colombo Group operates the Jazz Café, the Old Queens Head in Islington; Paradise by Way of Kensal Green; XOYO in Shoreditch; Blues Kitchen venues in Camden, Shoreditch and Brixton; The Nest in Dalston; and Phonox in Brixton.
Punch has reopened the Shoes Laces in Leyton (previously the Prince of Wales) as Pepper's Ghost having spent £300,000 remodelling and redecorating the pub. Named after local illusionist John Henry Pepper. The new governors are Jeff Ginsburgh and Victoria Saunders. Four real ales are now on offer.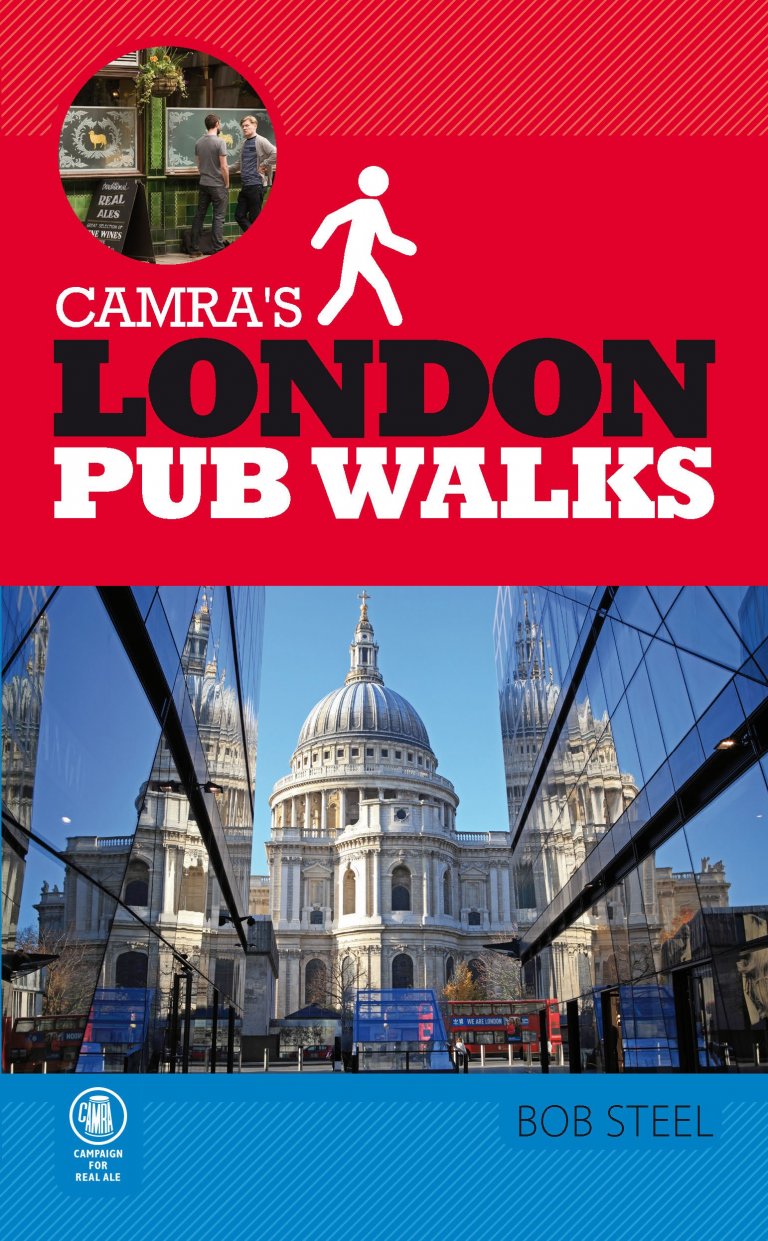 3 October
The third of edition of Bob Steel's CAMRA's London Pub Walks has been published and is available from the CAMRA Shop.
30 August
The Bexley Cider Trail takes place between 12 and 16 October.
25 July
On the pub/brewery front, a major surprise was the news that the lease on the Bull at Highgate had been sold to a new operator. This was the original home of the London Brewing Co whose operations will now be solely at The Bohemia, North Finchley. It is believed that brewing will continue at The Bull under the new owners.
This does now mean the collaboration beer at the Ye Olde Mitre advertised in the Aug/Sept London Drinker will not be available Also the tap takeover will now be with Sambrook's brewery and they will be doing a meet the brewer session
21 July
The August/September copy of the London Drinker is now available to download from here.
29 March 2016
Fuller's have purchased the Lord Northbrook in Burnt Ash Road, Lee. Meanwhile the Rose and Crown, Green Street Green, has reopened following the sale by Young's to Whiting & Hammond.
15 February 2015
The Magdala pub in Hampstead has closed following a dispute over the lease between Perritt & Perritt and owners Bow Capital who bought the pub from Punch for £2.1m in 2014. The pub is registered as an Asset of Community Value.
It is reported the Man in the Moon, Stanmore, is to become a Nandos leaving no pubs in the village.
11 February 2015
The Laine Pub Company is to be the partner with Phoenix Community Housing to restore the Fellowship Inn, Bellingham. The pub is likely to reopen next year following a £3.8m injection from the lottery. The new pub will also have a cinema, theatre, music hub with rehearsal room, coffee shop and micro-brewery. The pub was built after WW1 and has been used by Henry Cooper as well as bands including Fleetwood Mac and The Yardbirds. Laine's chief executive, Gavin George said: "In Phoenix we were pleased to find a landlord whose cultural and community objectives mirrored those that have been fundamental to our success since our first pub in 1996. We bring 20 years of commercial expertise in pub management to the project and are excited and grateful to be involved with Phoenix and to take custodianship of this gem of a pub." The company announced last week that they were looking at 25 future sites in London.
5 February 2016
The Solvay Society have announced they are moving into the old Ha'penny brewery which closed 18 months ago.
The Cuckoo, a pub in N1 which converted to Roots, an Indian Restaurant, reopens today as a pub. Beers from Ripple Steam Brewery are promised.
The Leman Street Tavern opens today - another Geromino (Young's) pub.
The Greyhound in Kirkdale has been put up for sale. The pub in Sydenham was unlawfully demolished in 2012 and had to be rebuilt. It can either be let at £47,500 or the freehold is £720,0000.
The Distinct Group who operate the Prince Albert in Camden, the Adam & Eve in Mill Hill Village and the Three Compasses in Hornsey have purchased the freehold of the Quays on the Holloway Road. The company intends to refurbish the pub and will offer "a fresh food menu including breakfast at weekends and our award-winning traditional Sunday roast. All backed up with an extensive wine list, selection of ales, cider, lagers, cocktails and craft beers, and an exciting line up of events, offers, and entertainment that all Distinct pubs have become well known for in their communities."
2 February 2016
The Draught House chain hope to open another site in April. They are taking over the former Grappolo restaurant and bar on the corner of Fetter Lane and Plough Place close to Chancery Lane station. A full refurbishment will start soon.
1 February 2016
The Laine Pub Company have opened the Watson's General Telegraph converting the Rose in Honor Oak Park, East Dulwich. There are said to be six beers on hand pump.

The Compass in Bromley, one of the pubs acquired from TCG by Stonegate, will become a branch of the Franco Manca pizza chain.
20 November 2015
Young's offshoot Geronimo Inns has opened the The Grocer in Crispin Place, part of Spitalfields Market. The pub contains a large bar, a function room and a covered terrace. Also in the City, the Craft Beer Co has opened its seventh site on Mitre Lane close to the Gherkin having replaced the former Trident Bar and Restaurant. Fuller's has reopened The Admiral Nelson in Whitton after an extensive refurbishment. Urban Leisure Group is opening the Heist Bank in Paddington in January, offering wood-fired pizzas and local beers.
The Cricketers in Woodford Green has been given ACV status by Redbridge council More here.
19 November 2015
The December/January edition of the London Drinker can be downloaded from here.
18 November 2015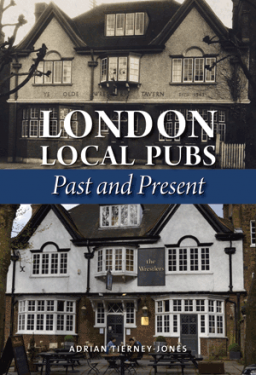 Last night saw the launch of London Local Pubs: Past & Present by Adrian Tierney-Jones. It contains never-seen-before archival images from Charrington's surveyors department, which were saved from a skip over 20 years ago and have now been made available for the first time. The book concentrates on 52 pubs, of which 60% are still open. The full collection can be viewed on the Historypin website.
26 September 2015
The October/November edition of the London Drinker can be downloaded from here. Please fill in our survey for a chance to win two nights' bed and breakfast plus a dinner for two people at the George Inn at Norton St Philip. More details on page 10.
18 September 2015
CAMRA Greater London Pub Protection Strategy v3.1 has been published.
10 September 2015
Congratulations to the One Inn the Wood and the Orpington Liberal Club for winning the Regional Pub & Club of the Year 2015.
28 August 2015
The Spectator has published an article The pub that shows what London's losing
3 August 2015
A campaign had started to save the Ship at Norwood Junction. The public house has been at the centre of a controversial planning fight​ between a developer and residents. The developer has made The Ship into flats without planning permission after two failed applications. The​ developer is now liaising with Croydon Council to have a retrospective planning application approved, which will include re-instating the pub on​ the ground floor and basement. The "Save the Ship" campaign are raising money to either lease or buy the pub and are having their first meeting on 18th August at 8pm at the Portmanor​ Pub, Portland Road, London, SE25. For more information visit http://www.savetheship.co.uk/ or follow them on twitter - there is also a facebook page.
23 July 2015
In a bizarre judgement, the planning inspectorate has overturned the decision of Haringey Council to refuse permission to convert the Alexandra in Fortis Green to flats. So despite the wishes of locals, the local authority and the pub having ACV status, the company who demolished the Carlton Tavern now have permission to convert the closed pub into flats. Another victory for localism?
In other news from the planning inspectorate, the appeal against the upper floors of the Sir Richard Steele being turned into flats as been upheld. The pub has recently gained ACV status.
22 July 2015
The August / September edition of the London Drinker magazine can be downloaded here.
15 July 2015
Young's have reopened The Brewers Inn in Wandsworth following a £400,000 refurbishment. The pub dining hotel in East Hill now features Jones' wine cellar bar serving a range of craft beers, fine wines and spirits as well as British cheese and charcuterie platters. The Pubco claims to have updated the bar area "to reflect the history and heritage of the pub."
14 July 2015
The freehold of the pub previously known as the Grange in Hayes is now on the market. The pub lost its license following a review in the wake of several outbreaks of violence. It was trading as the Blue Lagoon at the time of closure.
A campaign has been setup to save the Bailey pub on the Holloway Road. You can sign a petition here.
11 July 2015
The Ealing Beer Festival run by West Middlesex CAMRA sold out of real ale and foreign beers an hour or so before the official close of 6pm Saturday. More than 11,000 visitors attended the festival in Walpole Park despite a tube strike on two of the four days.
30 June 2015
Wetherspoon are selling the leases on eight of their Greater London Pubs. Devonshire House (Crouch End), The Foxley Hatch (Purley), The Gatehouse (Highgate), The Glass Works (Islington); The Moon Under the Water (Balham), The Oyster Rooms (Fulham), The White Lion of Mortimer (Stroud Green Rd) and The William Jolle (Northwood Hills) are to join the growing band of ex-Wetherspoon pubs in London. The Skylark closed along with the rest of Terminal 1 at Heathrow Airport yesterday.
26 June 2015
The Walworth Society has managed to get the Elephant pub (see below) listed as an asset of community value (ACV). They said in a statement "The Elephant, Walworth and the Old Kent Road used to host around 200 public houses serving the local community and hosting their social events as well as welcoming people passing through our area. There are now less than 20 pubs left so we need to safeguard these to allow them to become pubs and entertainment places for the future." The pub was ordered to close in March following an incident earlier in the year.
19 June 2015
Antic are to open a new bar in Brixton on Thursday. Ekcovision will be an "all day and all night venue" on the site of the Atlantis and Brixton Bar & Grill. A spokesman said: "The 11am – 6am licence means it will assume a multitude of different guises. It will be a place where one can enjoy a coffee and bite to eat during the day, beer and cocktail of an evening, a late night solace when the rest of Brixton has closed its doors where one can dance and drink into the wee small hours, and then do it all again the next day." The company have also put in a planning application to convert the haberdashers C & V Trading, in Penge High Street and reopen the Royal Bell Hotel in Bromley.
The freehold of the Sydney Arms in Chelsea is for sale for £1.9m. The four-storey public house iis currently privately owned and let to The Thoroughbred Pub Company until 2024. The pub is close to the Natural History and Victoria and Albert Museums.
A bar themed on the stock exchange opened in the City of London yesterday with drink prices changing in line with their popularity. Owner Alan Grant told the London Evening Standard: "We've worked with companies in Berlin and Mumbai to develop a pricing algorithm that is the closest thing you'll find to real-time markets. Effectively, if someone buys three beers then the price of that beer will rise and the price of others will decrease. The more popular a drink is, the more expensive it will be – it's market economics." Reserve Bar Stock Exchange opens on Gresham Street, spread across three floors, and will run from 5pm-2am every Monday to Thursday and until 3am on Fridays and Saturdays. It will operate a "beer market", a "spirits market" and an "alternative market", with big screens and a ticker showing the current prices of drinks. There will also be an app that allows at-table ordering, ensuring the price hasn't changed by the time customers get served.
Monday sees the first beer to be produced by the Wimbledon Brewery Company. It will be on the site of the original Wimbledon brewery which burnt down in 1889. Common Pale Ale will be the first beer out of the fermenters at 3.7% ABV. The brewery is founded by Wimbledon local Mark Gordon in partnership with Derek Prentice, the former brewer with Fuller's, Young's and Truman's. The new 30-barrel plant is opposite the Dog and Fox pub at College Fields in Prince Georges Road. A few bricks from the original brewery have been retained.
Greene King have put three pubs in the North London Branch area on the market via agents AG&G. They are the Stapleton Tavern in Crouch Hill, the Craft Beer Company close to Angel Station and the Cock Tavern in Kilburn. All have been offered with vacant possession on completion.
12 June 2015
Faucet Inns have lost a review of the decision to give the Dartmouth Arms ACV status. The pub is currently closed whilst the upstairs is converted to flats.
10 June 2015
The Prince Edward Pub on Wick Road in Hackney has been added to the Council's register of Assets of Community Value. Following a nomination by the Friends of the Prince Edward, a community body supported by Hackney Irish Social Club, local residents, pub regulars and the East London & City branch of CAMRA, Hackney Council has recognised the historic ex-Truman's pub, popular with members of Hackney's West Indian community. This is the second pub in Hackney to be listed.
9 June 2015
Young's are reopening The Brewers Inn in Wandsworth next Wednesday following a refurbishment concentrating on a new kitchen and dining area.
4 June 2015
The Three Cheers Pub Company (formally Renaissance Pubs) has bought the freeholds of the Stonhouse in Clapham and the Rosendale in West Dulwich from Punch Taverns. The garden of the Stonhouse is now going to be refurbished to make it available all year round.
3 June 2015
Foxtons plan to convert the Elephant and Castle pub at the famous roundabout into an estate agent. The pub lost its premises license in March following an incident earlier in the year. More details from the Standard
29 May 2015
Antic have confirmed they plan to reopen the former Granada cinema in Walthamstow as a pub and community facility. More details here.
26 May 2015
Fuller's have admitted that now only own half of the 135 pubs they owned in 1985. 67 pubs have been demolished, converted to flats, used as supermarkets or are now operated by other companies.
21 May 2015
The June/July edition of the London Drinker can be downloaded from London Drinker Magazine 2020 - despite what is says on page 32, the Sir Richard Steele is open for business and has a very lively and funny twitter feed here.
Young's profiits have soured by 35% to £36.1m on sales of £227m. In the past year the pub company has purchased the Fox & Anchor pub close to Smithfield Market, the White Bear in Kennington, the Trafalgar Arms in Tooting, the Canonbury, and the 580 Group (the John Salt, the Fellow, the Owl and Pussycat, and the Defectors Weld). The company is looking to acquire more pubs and develop its "premium offering".
The Cock Inn, previously the Cock & Dragon, in Cockfosters, has sold for £4m at auction. M&B have a 35 year lease on the pub from April 2015.
20 May 2015
The Kings Arms in Acton has been demolished. Fuller's sold the pub to a developer in 2013 and has partially been trading as a furniture shop for the last 18 months. Flats are to be built on the site.
Marylebone Leisure Group is to open the Clerkenwell & Social on 1 June on the site of the Bear in St John's Square. The group already has Barsmith close by. There will be two bars in the new site across two floors with outdoor seating in St John's Square. The company was set up in 2011 by Ben Avigdori & Lawrence Santi to manage three sites. They now have six including the recently open Bar Italia in Uxbridge and the Nona Rosa restaurant next door.
Also opening in June is the Winchmore. The former Willow pub in Winchmore Hill Road is owned by Star Pub and Bars (Heineken) and are giving £330,000 towards the redevelopment. New Tenants, brother and sister Mark and Eimear Walsh, are spending £109,000 towards the refit. The pub closed in 2012.
Wimbledon Brewery is currently test brewing at the Bull in Highgate. The new 30 barrel brewery in Wimbledon will start brewing mid-June.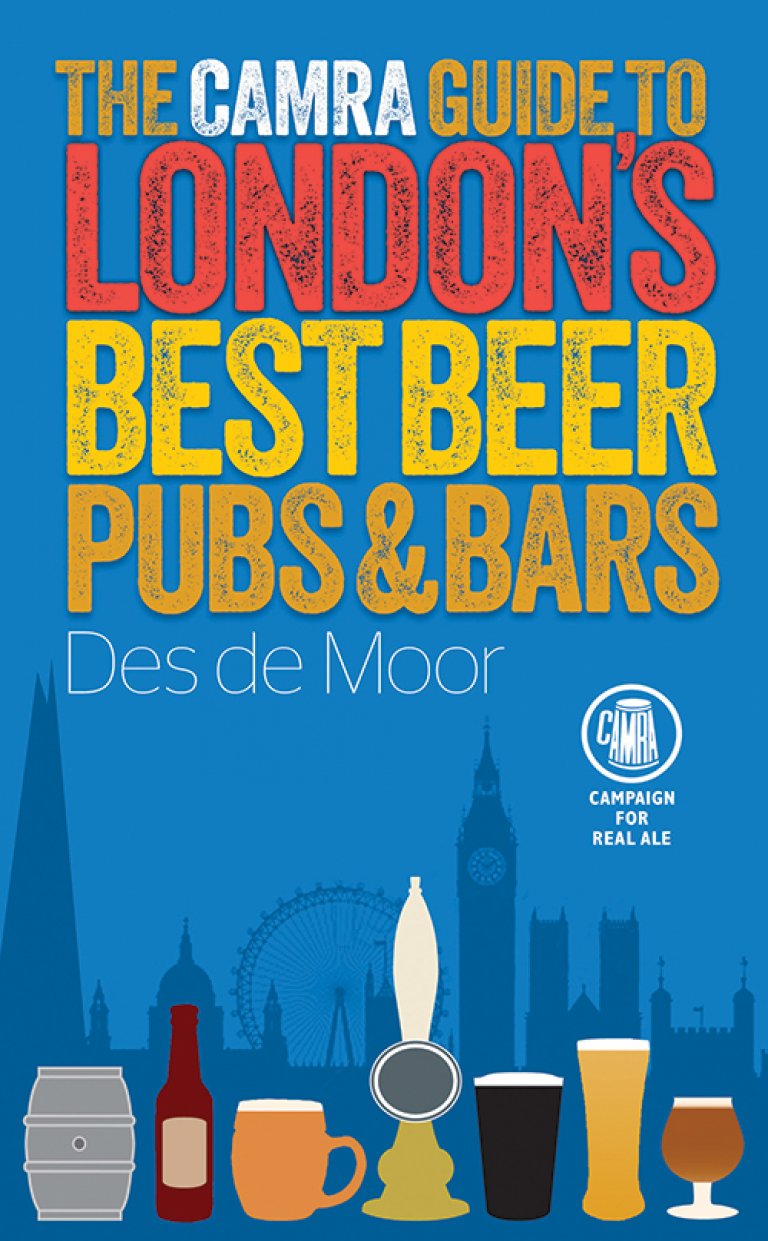 19 May 2015
Hackney Council have issued a press release over the Chesham Arms reopening. The latest news on the pub can be found on twitter.

The second edition of Des de Moor's London's Best Beer, Pubs & Bar will be available from 2nd July. The book is packed with detailed maps and easy-to-use listings to help find the best places to enjoy perfect pints in the capital. Laid out by area, the book makes it simple to find the best London pubs and bars - serving the best British and world beers – and to explore the growing number of London breweries offering tours, taprooms and direct sales. Features tell more about London's rich history of brewing and the city's vibrant modern brewing scene, where well-known brands rub shoulders with tiny micro-breweries and brewery numbers have quintupled in the last four years.

The Draft House chain are to open a new bar as part of the The Bower, a new development at the Old Street roundabout.

The Finchley Tavern is to be renamed Tommy Flynn's following a refurbishment. It joins a number of pubs run by Sean Flynn as part of the Tommy Flynn Pub Group.

Harlesden Picture Palace opens this Thursday. Originally the Coliseum and previously the Misty Moon, beers from Redemption along with several other breweries are promised for opening night.
Brewhouse & Kitchen Highbury will open in June. This is the second Brewhouse & Kitchen brew-pub in London (following the opening of the one close to Angel station last year), and it will feature a large craft microbrewery in open view. The original urban tram shed building is being completely transformed with am interior that can comfortably fit 350 people and a front garden for 80. Its location close to Highbury & Islington Tube & Overground station will make it a handy new beer destination. A Midsummer Beer Night party on Monday 22 June in the new beer garden is open to the public to welcome in the summer with new beers.

The Questors Theatre Grapevine Bar is holding its Spring Beer Festival between 21-23 May. The Club is current West Middlesex Branch Club of the Year. The beer list is here. All welcome.
15 May 2015
London Brewer Meantime has been bought by global giant SABMiller. Read about it at the Morning Advertiser
19 March 2015
The London Drinker Magazine 2015 April/May has been published. The printed edition will be available from Wednesday 25th March.
27 January 2015
Following yesterdays debate on the Infrastructure Bill. You kind find out at Pub Protection - How MPs voted which London MPs supported pub protection measures and those who voted against.
23 January 2015
We have updated the list of London Breweries to include the Essex Street Brewing Company, the Still & Star, and the second brewery for the London Brewing Company at the Bohemia. To follow are the Ealing Park Tavern (currently brewing but beer not yet available), the Inkspot and Mondo
22 January 2015
The London Drinker Magazine 2015 Feb/March has been published. The printed edition will be available from Wednesday 28th January.
9th December 2014
Fuller's Head Brewer John Keeling receives CAMRA's John Young Memorial Award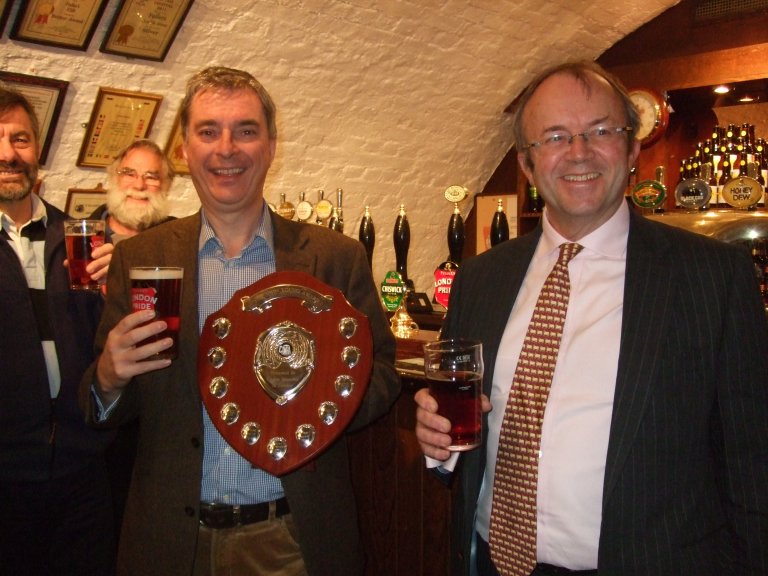 23rd November 2014
Pub Champion Greg Mulholland MP launches new planning campaign, backed by CAMRA, Fair Deal for Your Local and Licensees Supporting Licensees. The new planning campaign builds on the success achieved on 18th November when parliament voted to approve a Market Rent Only option for tied publicans in the Small Business Bill. The campaign will aim to project CAMRA's Pubs Matter initiative right into the heart of government and the Leeds North West Liberal Democrat MP has set an ambitions target of removing Permitted Development Rights from pubs before the 2015 General Election. Further details will follow, including a Pubs Planning Crisis Summit in Parliament in the New Year. For now, please follow @ProtectPubs on Twitter and lobby your MP to either sign up to EDM 208 or write to Ministers calling for the removal of PD rights.
22nd November 2014
We have added Bloomsbury, Brewhouse & Kitchen, Clouded Minds, Four Thieves (Laine's), Hops & Glory, Left Bank, Orbit, Park and Southwark to our London Breweries list.
20th November 2014
The London Drinker Magazine 2014 Dec/Jan has been published. The printed edition will be available from Wednesday 26th November.
7th November 2014
The date for the presentation of the John Young Memorial Award to John Keeling has been set for Monday 8th December at 4.30pm in the Hock Cellar at Fuller's. All welcome. Doors open from 4pm.
6th November 2014
The Door Hinge in Welling was presented with the Greater London Pub of the Year award last night by Regional Director Geoff Strawbridge.
9th October 2014
Wandsworth has become the first London borough to apply a blanket Article 4 direction on most pubs in the borough. Read more here.
6th October 2014
The 150-year-old Chesham Arms Pub, listed as an Asset of Community Value, has been saved after the Planning Inspectorate upheld a Hackney Council Enforcement notice which requires a developer to cease the use of the upper floor of this historic landmark as a self contained flat.An Asset of Community Value saved from illegal development
30th September 2014
The Technical Consultation on Planning - CAMRA Greater London Response has been published.
18th September 2014
Downloadable edition of October/November London Drinker magazine now available at http://london.camra.org.uk/viewnode.php?id=17734 and London Drinker Magazine 2014 Oct/Nov
27th August 2014
The Greater London Club of the Year presentation takes place at Leyton Orient Football Club on Thursday 25th September. All welcome. See flyer for details.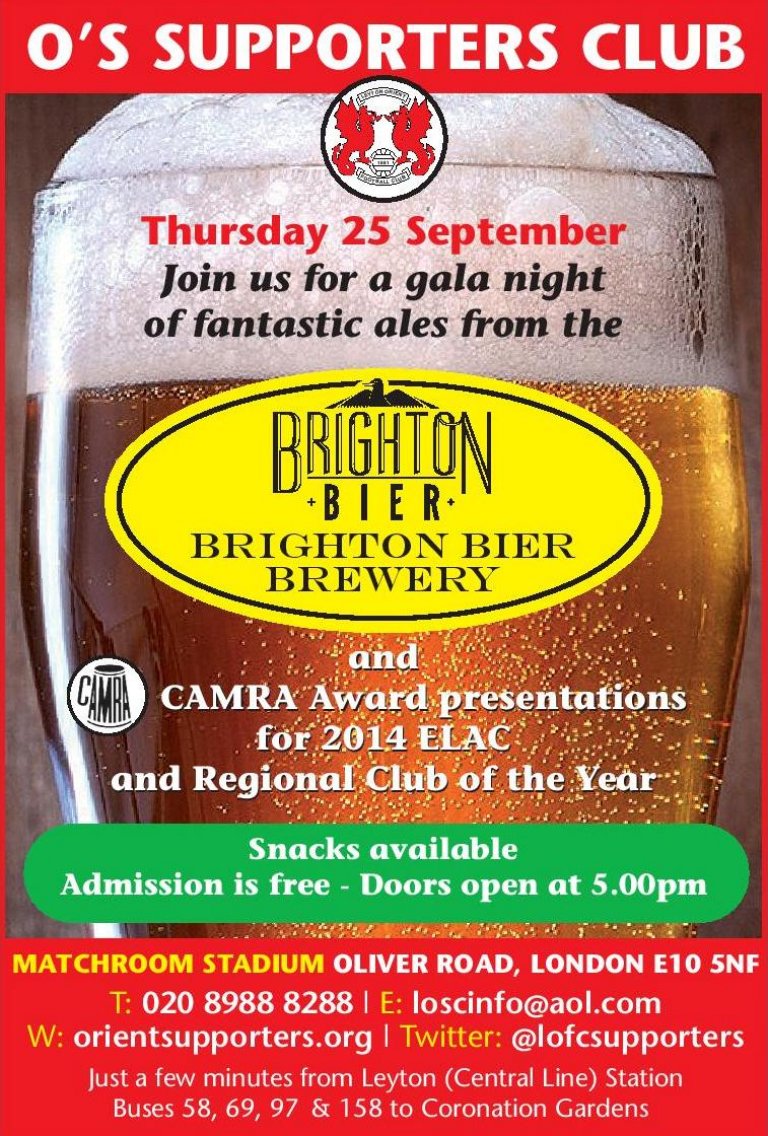 25th July 2014
Downloadable edition of August/September London Drinker magazine now available http://london.camra.org.uk/viewnode.php?id=17734 and London Fields Brewery hosts British Craft Beer Challenge Round 4 GB V COMMONWEALTH Some of the breweries confirmed for the next round are, Moosehead from Canada, Coopers, James Boags, Little creatures and Stone & Wood from Australia and Stien and Moa from New Zealand against UK ones such Magic Rock, Harbour, Brewdog & of course London Fields Brewery from the UK.
18th July 2014
It's well known that London is riding on a flood of new breweries and beer so a new event is taking this under one umbrella. The London Beer City week takes place from Saturday 9th to Saturday 16th August and includes brewery open days, pub crawls, beer tastings and of course GBBF at Olympia http://gbbf.org.uk/ Full programme on their website at http://www.londonbeercity.com/
11th July 2014
For the first time, Ealing Beer Festival hosted a beer and cheese tasting with cheese from local delicatessen, Cheddar Deli. To see the beer and the cheese pairings see: Beer & Cheese Tasting - Ealing Beer Festival .
12th June 2014
24th June sees the beginning of the Public Inquiry into the illegal use as flats at the Chesham Arms in Hackney. CAMRA members are welcome to join the Save The Chesham Arms campaign from 9am on the 24th outside Hackney Picture House (formally the Ocean) for a demonstration and photo call, followed by the public inquiry at 10am. The enquiry is likely to last two days. For more information you can download the Save the Chesham Arms Inquiry Press Release or visit www.savethechesham.org.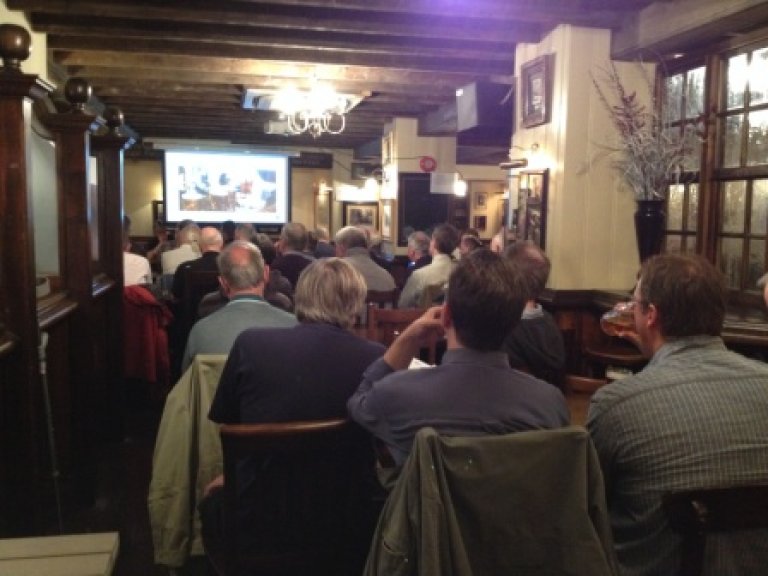 3rd June 2014
People from 25 boroughs across London (including the City of London) met to discuss the scandalous continuing loss of pubs across the Capital. Licensees, local council planners and people who simply love their pub, got together to hear about the current planning laws and what protection can be offered to pubs. For more information People from 25 London Boroughs say no to pub closures.
3rd June 2014
Fancy a trip out of town, why not head out to Maidenhead for their festival? http://www.maidenheadbeerfest.org.uk/
22nd May 2014
Download the latest edition of London Drinker Magazine 2014 June/July. Also updated is LocAle Pubs & Clubs, the London Breweries section and the Links now have the twitter and facebook pages.
6th May 2014
CAMRA London Region has issued a press release calling for Greater Protection for London Pubs. It can be found here.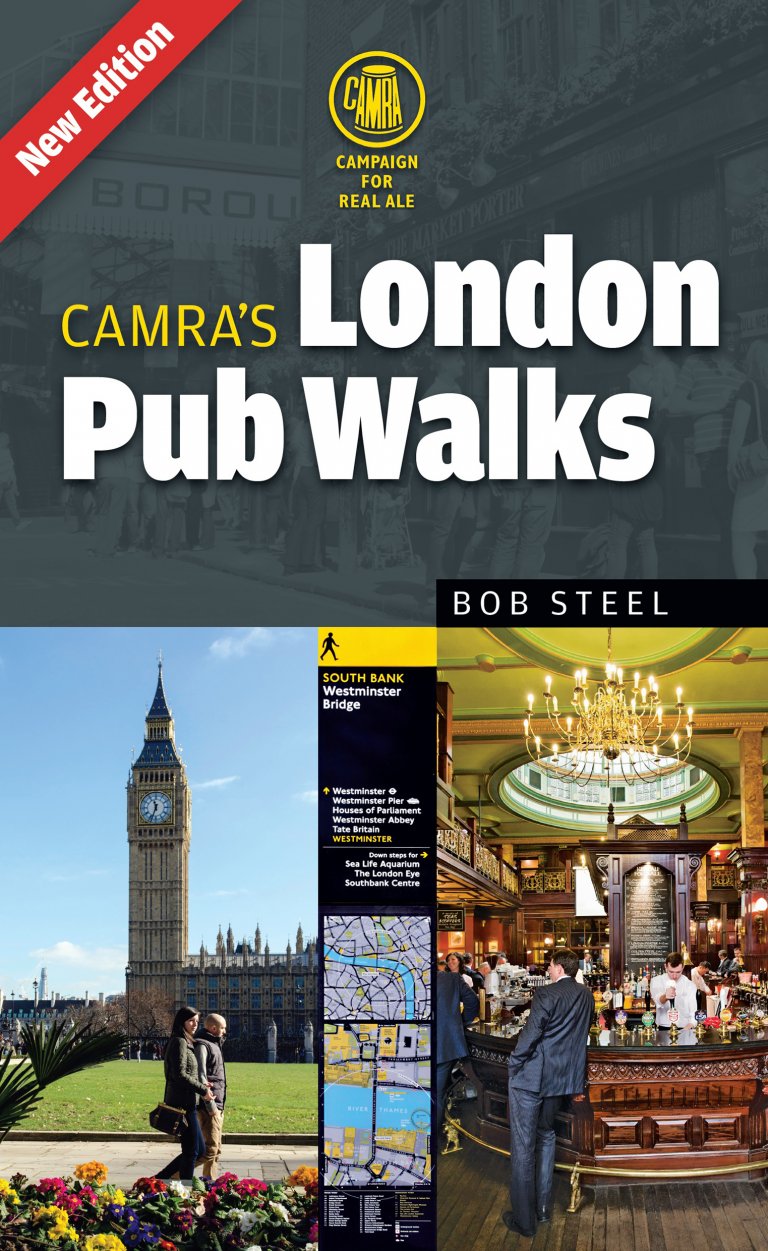 2nd May 2014
CAMRA London Region - Pub Protection Seminar Agenda has now been finalised
11th April 2014
Pubs are currently being lost at a rate of 28 per week in the UK and London suffered a net loss of 83 pubs in 2012, rising to 87 in 2013. Londoners love their boozers but pubs are struggling to survive in the face of competing land uses, compounded by weaknesses in the planning system which allow certain changes of use without the need for planning consent, and hence without the opportunity for communities to have a say. CAMRA is fighting hard throughout the UK to save valued community pubs. The attached submission to the Mayor explains the threats to London's pubs in greater detail. CAMRA's response to Further Alterations to the London Plan
31st March 2014
The latest list of London's breweries has been added here http://www.london.camra.org.uk/viewnode.php?id=1972 and of London's LocAle pubs and clubs here http://www.london.camra.org.uk/viewnode.php?id=1248 and Dates of London Beer Festivals
20th March 2014
Download the latest edition of London Drinker Magazine 2014 Apr/May The bottom of page 3 reads, On Saturday 31 March CAMRA's Greater London Region will be holding a seminar on pub protection. The venue is the Melton Mowbray, High Holborn, from noon until 5pm. Anyone who cares for London's pubs and wants to get more involved in saving them is welcome to come along. There is no charge. Please note that the date should be Saturday 31 May.
Frank Baillie was the author of the ground-breaking the Beer Drinker's Companion (published 1973) and was a great influence on the fledgling CAMRA. He passed away recently at the age of 92 and at his funeral on 17 February 2014, the address was given jointly by Graham Lees and Michael Hardman, two of CAMRA's founder members. These are the original notes; the version actually delivered may have differed slightly. Frank requested that the beer for his wake should be Hop Back GFB and the brewery were proud to make a gift of a cask accordingly.
28th February 2014
A talk being given by ex-Guinness brewer David Hughes on the lost Guinness artwork painted by Gilroy who is famous for painting their iconic advertising imagery from the 1930s-1960s details A talk on Guinness Advertising History
And what about this short video on the nano-brewery where Young's once was ... or perhaps still is!! https://www.youtube.com/watch?v=atPKixiSJx8&feature=youtu.be
20th February 2014
Roger Warhurst's latest and last Capital Pubcheck Update 234 is now available to download. CAMRA London owes a great thanks to Roger for maintaining this comprehensive record of changes in the London pub scene.
13th February 2014
Forthcoming beer festivals - London Drinker & Ealing, go to London Beer Festivals in left-hand margin.
31st January 2014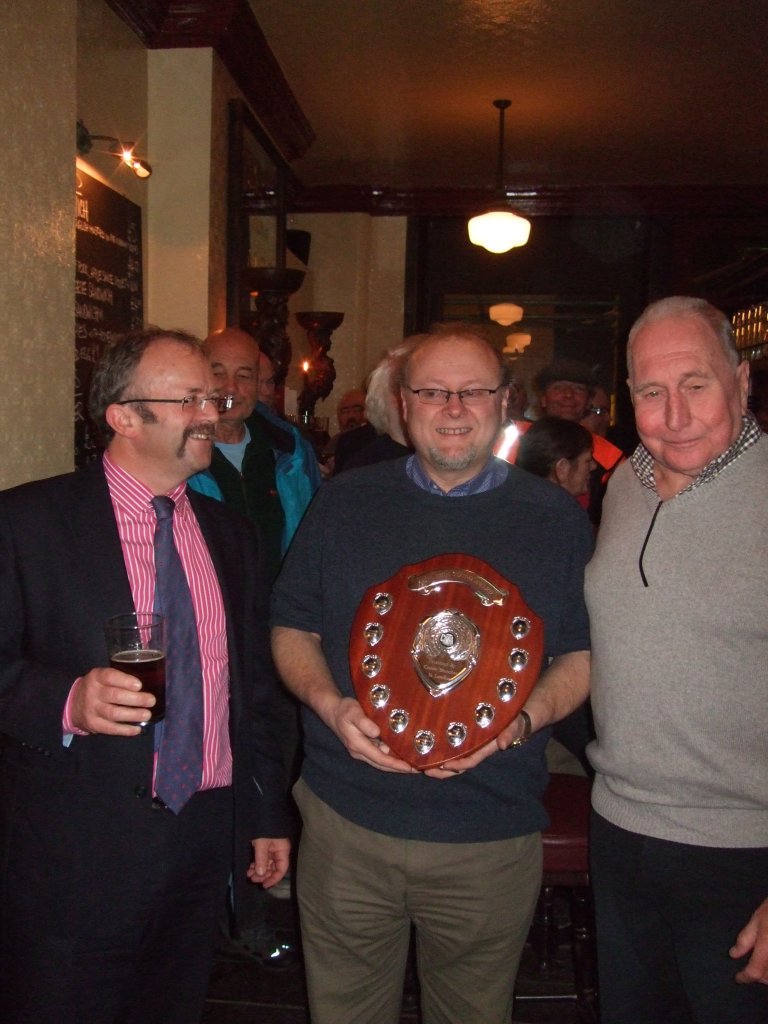 The 2013 John Young Memorial Award has been given to Steve Barnes and Will Williams, here's why John Young Memorial Award 2013
25th January 2014
Up to date list of London's LocAle pubs and clubs at LocAle Pubs & Clubs as well as latest information on London Beer Festivals at Jan 2014
23rd January 2014
Feb/Mar edition of London Drinker magazine now available to download, click on London Drinker Magazine in the left-hand margin. In the advertisement on page 25 of the February/March issue, the wrong dates were given for the festival at the Craft Beer Co Clapham. The correct dates are 3-6 April.
21st January 2014
No-one can have failed to notice the tremendous growth in brewing in London over the last couple of years. To support each other and help the whole sector, the brewers got together as the London Brewers Alliance. With so many members, they needed a part-time Secretary to help administrate the whole thing and there is now a vacancy for the post, the job description for which can be downloaded here. London Brewers Alliance Secretary Job Description. Interested parties should follow LBA Secretary Application Process but do act soon.
20th January 2014
Details added to Regional Diary of London Pubs Group events, click on Diary in left-hand margin.
1st January 2014
Our first post of the New Year gives topical information on three of London's newest breweries following visits by the London Tasting Panel. If you would like to find out about the Panel and how to get involved contact moc.tenretnitb@enyrc.c To find out what's going on at these breweries and details of their beers with tasting notes click on
Weird Beard (and Ellenberg as was) and The dads have it at Belleville
17th December 2013
London brewer, Derek Prentice, named Brewer of the Year by the British Guild of Beer Writers. Tim Hampson explains why
2nd December 2013
The Clutha Vaults, Glasgow
CAMRA London Region and London Drinker magazine offer their condolences to the family and friends of those who died in this terrible event and send our best wishes for a speedy and full recovery to all those affected.
28th November 2013
Latest list of London's breweries at http://www.camralondon.org.uk/viewnode.php?id=1972 and LocAle pubs at http://www.camralondon.org.uk/viewnode.php?id=1248
22nd November 2013
The dark delights of the White Horse - the 2013 Old Ale Festival, plus latest list of London festivals updated at London Beer Festivals page, see left-hand margin.
21st November 2013
The Dec 2013/Jan 2014 edition of London Drinker magazine is now available to download at http://www.camralondon.org.uk/viewnode.php?id=7721
1st November 2013
New Regional events added to Diary - click on Regional Diary in left-hand column.
14th October 2013
Map now added for this Saturday's London Pubs Group crawl http://www.camralondon.org.uk/viewnode.php?id=14308
30th August 2013
Details of next London Pubs group crawl now available - go to Regional Diary page, see left-hand margin.
27th August 2013
Minutes of the Regional CAMRA meeting at which National Chairman Colin Valentine was present can be accessed in the Members' Area, click on link in left hand margin.
And a taste of Wales in London at Portobello Brewery find out more about one of our newest breweries.
8th August 2013
Happy Birthday Sambrook's!!! Sambrook's Brewery would like to offer CAMRA members a discount for their exciting 5th Birthday Party - Beer By the River on the 14th September at Morden Hall Park. They are offering members a £2.00 discount from the advance booking. For more details go into the Members' Area
4th August 2013
The Queen's Head in Acton Street has been named as CAMRA Greater London's Cider Pub of the Year and received their award at a ceremony last week - for more information download this news release London Cider Pub of the Year 2013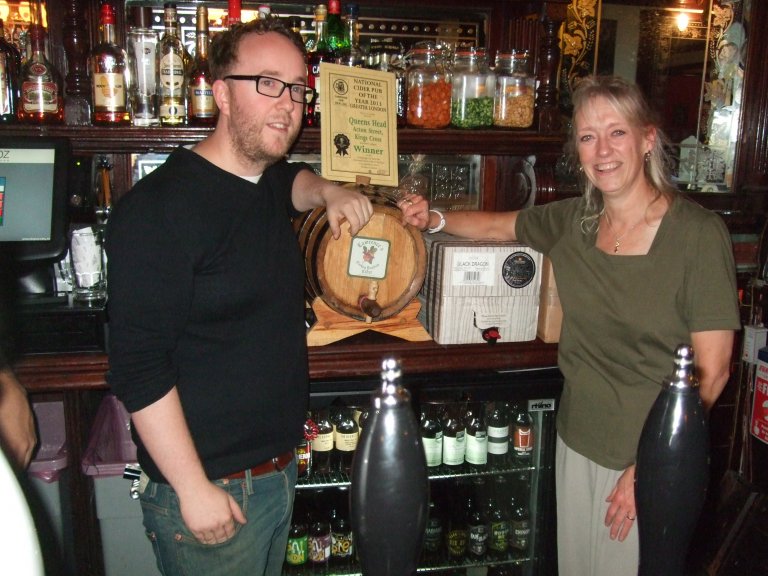 31st July 2013
Latest copy of London Drinker magazine now on-line, just click on the London Drinker Magazine tab on the left.
30th July 2013
A community interest group from East London has been campaigning for almost a year to save their local pub from closure. They have done everything the politicians have asked of them - and more! The attached How to destroy a Pub tells their story. They believe the present legal protections offered to pubs merely pay lip service and if this country is serious about saving its pub heritage, such amenities must be given sui generis planning protection. They will soon be battling a developer at the first tier tribunal in what will be the very first oral hearing of an appeal of an Asset of Community Value Registration. Ordinary citizens should not have to go to these lengths to save a pub. Something is very wrong here with the system.
30th July 2013
The latest list of London's LocAle pubs has now been added to the website, click on London Pubs in the left hand margin. In addition, the current list of London beer festivals has also been added, click on London Beer Festivals in the margin. And finally, Capital Pubcheck 231, too large for the Aug/Sept edition, is also on-line, go to the London Drinker magazine page.
12th July 2013
New CAMRA book puts London pubs on the map. A new book published by CAMRA maps London's best pub walks and the watering holes you can visit along the way.
The walks presented in the practical guidebook, part of CAMRA's well-known Pub Walks series, take in the very best of London and its real ale pubs. Interlinking routes lead walkers from the heart of the British capital - Trafalgar Square, Big Ben, Fleet Street, the Southbank and Greenwich - to some of the most idyllic suburbs. For more...London Pub Walks
11th June 2013
The Minutes of the May meeting of the London Liaison Committee meeting are now available in the members' areas (see left hand margin)
11th June 2013
The Churchill Arms in Kensington has been awarded CAMRA West London's 2013 Pub of the Year Award. Locals and CAMRA members gathered to celebrate on Saturday 8th June. [Photo Gill Shaw http://www.gillshaw.co.uk/ ]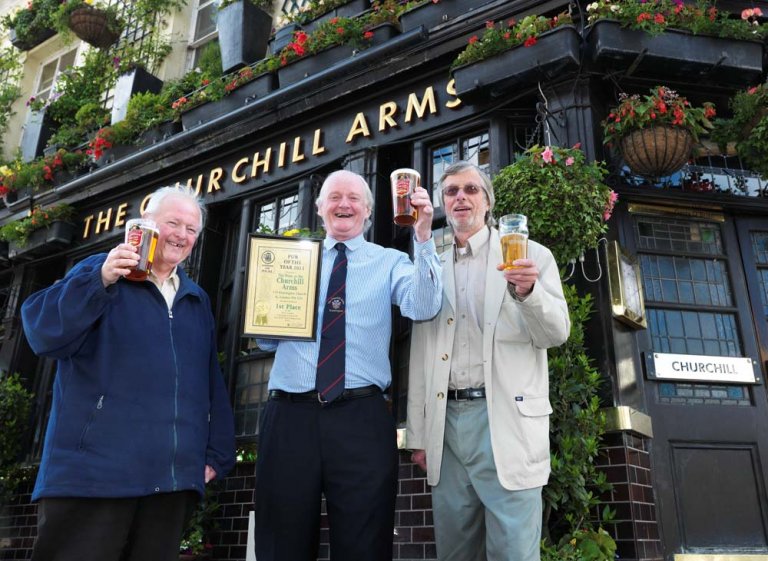 7th June 2013
As brewing continues to grow in our capital, we bring you what we think is the definitive list as at 31 May 2013 here.. London Breweries - do you know different? If so, get in touch.
Updated details of next London Pubs Group Crawl on Saturday 15 June 2013 http://www.camralondon.org.uk/viewnode.php?id=8932
28th May 2013
Latest list of CAMRA and other beer festivals now on-line at London Beer Festivals as is the full list of LocAle accredited London pubs at LocAle Pubs & Clubs
25th May 2013
The June/July edition of London Drinker magazine has now been added to the website http://www.camralondon.org.uk/viewnode.php?id=7721
15th May 2013
Details of the next London Pubs Group crawl have just been released http://www.camralondon.org.uk/viewnode.php?id=8932
10th May 2013
Former Pubs Minister, Bob Neill MP, has written to his constituents urging them to fight the proposed demolition of The Porcupine in Mottingham. Can you be there on Tuesday to show support for the campaign? Read what Bob has to say Bob Neill's Call To Arms
8th May 2013
John Cryne of CAMRA's North London Branch used the opportunity of CAMRA's Parliamentary reception to meet with local MP Sarah Teather. High on the agenda was the threat to local pubs and, in particular, the proposed closure and redevelopment of The Queensbury at Willesden Green. Sarah has been a strong supporter of http://savethequeensbury.info/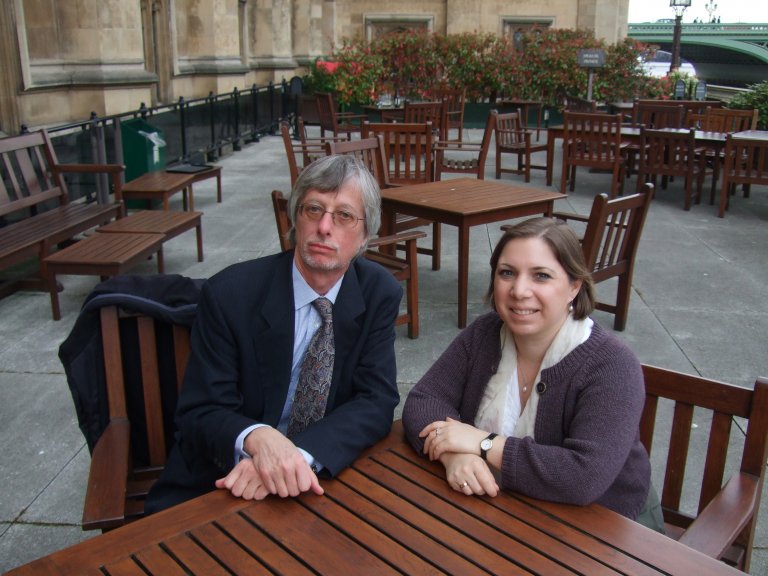 23rd April 2013
Dale Ingram of CAMRA South West London Branch and the CAMRA London Region Pubs Protection Adviser was named as CAMRA's Campaigner of the Year at the CAMRA National Conference and AGM at Norwich for her ceaseless work in trying to prevent pubs falling into the hands of developers and others who want to take away our pub heritage.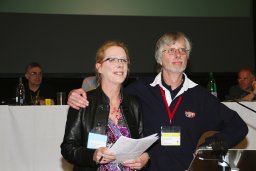 9th April 2013
London's pubs are a step closer to being protected from demolition or conversion into homes, shops or office blocks after Boris Johnson agreed to list them as "community assets" in his planning guidance for councils.
The Mayor told Tory Assembly members he would include a specific protection for community pubs to stop them being taken over by developers. See: http://www.standard.co.uk/news/london/pubs-listed-as-community-assets-to-protect-them-from-developers-8565446.html
2nd April 2013
At the recent public meeting to discuss the Geffrye Museum's development plans financed by the Heritage Lottery Fund, Museum Director David Dewing told the audience that he had "no interest in the culture of the Labouring Classes," justifying the demolition of The Marquis of Lansdowne, which stood upon the corner of Geffrye St since 1839, as a building of "no historic significance."
Read more here ...http://spitalfieldslife.com/2013/03/31/george-barker-the-marquis-of-lansdowne/
28th March 2013
And now great news about The Ivy House, this nice little piece sums it up community wins - developers lose, the fight back continues ....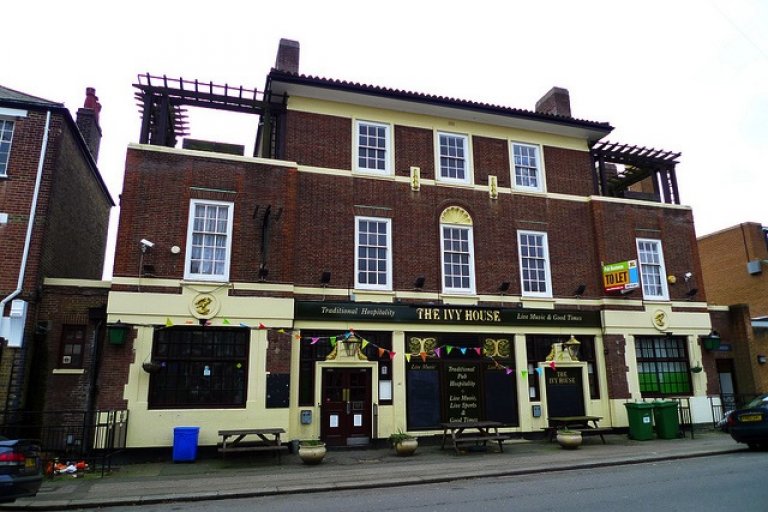 http://londonist.com/2013/03/ivy-house-pub-saved-by-nunhead-community.php
24th March 2013
After a 14 month planning roller-coaster, campaigners in Battersea are jubilant over Wandsworth Council's agreement to register the Castle in Battersea High Street as an Asset of Community Value under the Localism Act. This is the first ACV registration in the borough. More.....Castle Battersea
22nd March 2013
A pdf version of the Apr/May 2013 edition of London Drinker has been added to the website, just click on London Drinker Magazine in the left-hand margin.
Latest list of CAMRA and other beer festivals now on-line at London Beer Festivals as is the full list of LocAle accredited London pubs at LocAle Pubs & Clubs
15th March 2013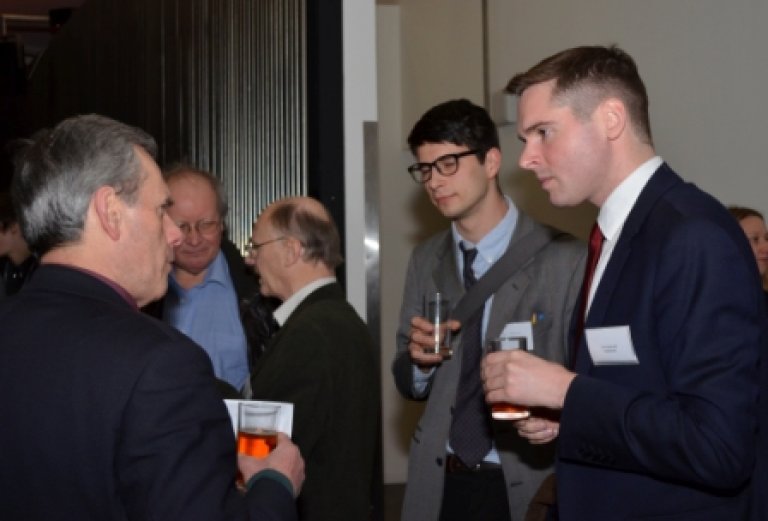 In light of CAMRA's latest research showing two London pubs facing closure a week, CAMRA joined London Assembly member Tom Copley in London's City Hall for a Pubs Protection Summit. Campaigners, journalists and London borough councillors gathered to hear from a line-up of speakers who each shared their expertise on protecting London's pubs. For more details see: CAMRA campaigners gather in London's City Hall for Pubs Protection Summit.
15th March 2013
Sharing a platform with Greg Mullholland MP at Orpington Liberal Club, CAMRA Greater London Regional Director John Cryne called on local and national politicians and local people to act together to save their pubs, their clubs and their pints. Here follows a transcript of his speech... for more SAVE YOUR PINT
Bromley CAMRA's one day only Mad March Cider Festival on Saturday (9th March) was a massive success with the festival having to close early, for more information..... Mad March Cider Festival
Full details of the forthcoming East Dulwich and Kingston Beer & Cider festivals are now on the London Beer Festivals page, click on the left.
27th February 2013
The Blythe Hill Tavern, 319 Stanstead Road, Forest Hill, SE23 1JB has been recognised as a CAMRA Real Heritage Pub. A most appealing and real-ale/cider-rich street corner pub refitted in the 1920s. There are still three separate rooms with a public bar on the corner, a saloon to the left and a large room running across the back of the pub. A snug/off-sales has been incorporated into the public bar but that seems the only major change. A quirky feature is that customers can cross through the servery from the back room to the saloon. See the entry on the Heritage Pubs web site - http://www.heritagepubs.org.uk/pubs/real-heritage-pub-entry.asp?pubid=2062
19th February 2013
Greg Mulholland MP, the Chairman of the All Party Save the Pub Group and CAMRA London Region Director John Cryne will speak at a "Save Your Pint" public meeting on 13 March, a week before the Chancellor's Budget. With hopes high that the Chancellor will announce the end of the Beer Duty Escalator on 20 March, the meeting will be a chance for London CAMRA members to hear the latest from two leading campaigners.
The meeting, which starts at 8.15pm, is taking place at Orpington Liberal Club, 7 Station Road, Orpington, BR6 0RZ and has been jointly organised by the club and Bromley CAMRA.
All CAMRA members are welcome, but should bring their membership cards, and arrive early.
At the turn of the New Year in 2012 the club, which is Locale accredited, switched from 25 years with the same brewery and sold 111 different real ales in 2012. Three pumps of real ale will be on the bar on the night. For more information go to http://www.orpingtonliberalclub.co.uk/
Photo left: Greg Mulholland MP and John Cryne at the 2011 Battersea Beer Festival, Credit Michael Flynn http://www.flickr.com/photos/flynnbar/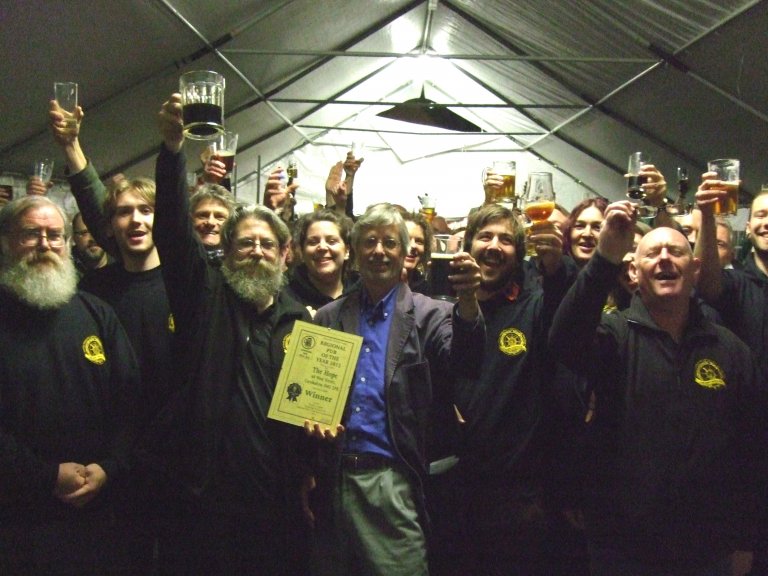 30th January 2013
Details of Craft Beer Rising have been released, download this pdf poster (a 2.8mb file) to find out more about what's going on at The Old Truman Brewery in February.
27th January 2013
Latest list of CAMRA and other beer festivals now on-line at London Beer Festivals as is the full list of LocAle accredited London pubs at LocAle Pubs & Clubs
25th January 2013
A pdf version of the Feb/Mar 2013 edition of London Drinker has been added to the website, just click on London Drinker Magazine in the left-hand margin.
23rd January 2013
Details have just been released of the next London Pubs Group Crawl
14th January 2013
For news about London's Beer Tasting Panel go to London Tasting Panel
5th January 2013
In what must be one of the more unusually timed Branch events, SE London CAMRA are holding a social starting at 6.00am on 22 March, at the Market Porter - for more details go to Early Morning Branch Social
4th January 2013
Peter Tonge London Drinker's former adman dies. Our current Advertising Manager John Galpin pays tribute - follow the link.
14th December 2012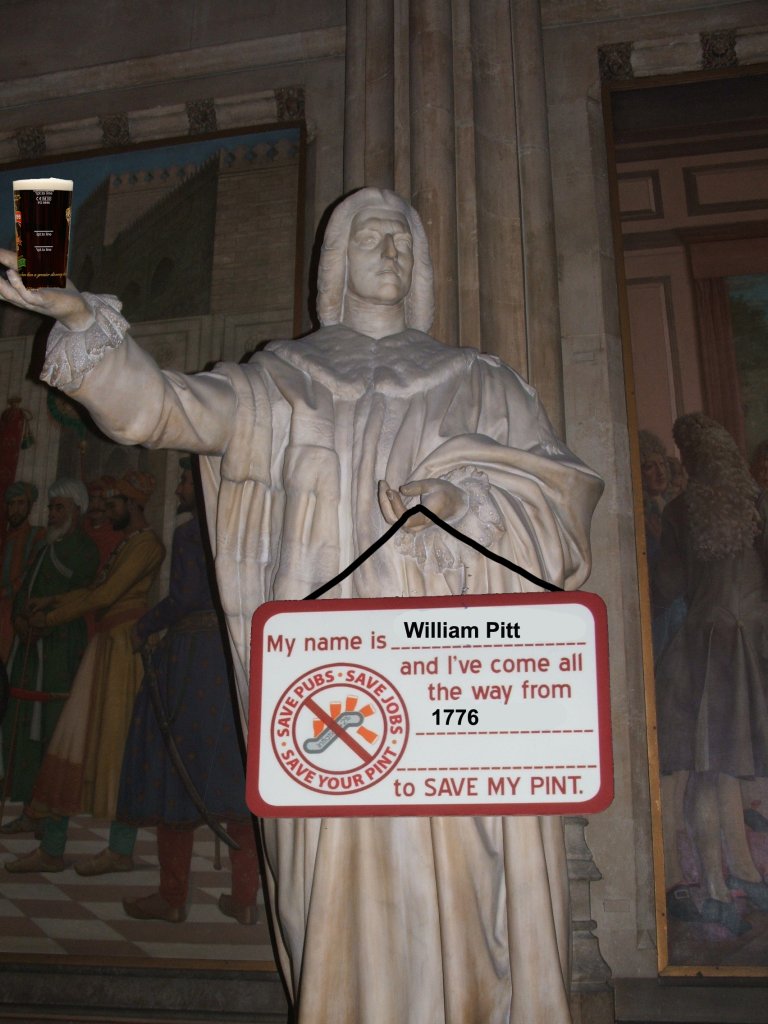 CAMRA members from across the country including large numbers from London took their argument about the harming effects of the beer duty escalator to Westminster this week to Save Your Pint, for more see http://www.saveyourpintlobby.org.uk/ and for pictures of the day go to http://www.flickr.com/photos/selcamra/8269868864/in/photostream
28th November 2012
At the great Pigs Ear Festival 2012
London CAMRA's John Young Memorial Award 2012 was presented to a man who started a brewery in an area not renown for its real ale. Click the link for more.
28th November 2012
The Christmas edition of London Drinker has now been added as a pdf file here http://www.camralondon.org.uk/viewnode.php?id=1268 While the latest list of LocAle accredited pubs and clubs has also been added here http://www.camralondon.org.uk/viewnode.php?id=1248
05th November 2012
On 12th December members of CAMRA will be carrying out a mass lobby of Parliament as a part of the continuing campaign to abolish the beer duty escalator, for more detail download this pdf file Mass Lobby Poster
24th October 2012
Time Out names the winners in the Time Out Eating & Drinking Awards 2012 Best New Beer Bar category: for the pubs that deliver great artisan beers, to see who has won go to http://www.timeout.com/london/feature/3089/time-out-eating-drinking-awards-2012-best-new-beer-bar
8th October 2012
CAMRA has announced that its 2013 Great British Beer Festival will return to London's Olympia Exhibition Centre, a week later than usual. http://www.camralondon.org.uk/viewnode.php?id=6845
or go to the London Beer Festivals page for up to date detail on Wallington and Twickenham
3rd October 2012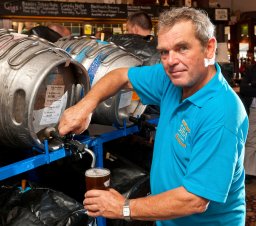 SIBA beer competition saved by London pub
29th September 2012
Just published and with encouraging news for the sector The Cask Report is available online at http://www.caskreport.co.uk/ Now in its sixth year, it is backed by CAMRA; the Society of Independent Brewers; the Independent Family Brewers of Britain; and Cask Marque Trust. Brewers are represented by Adnams, Caledonian, Fuller's, Greene King, Marston's and Wells and Young's. For a summary click The Cask Report 2012-13
24th September 2012
Celebrate Cask Ale Week with some great real ale offers for CAMRA members! Please note only CAMRA members can access this link. Cask Ale Week 2012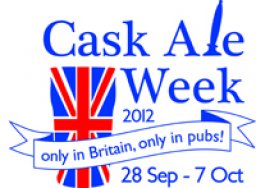 To find out more about what it is all about Nationwide Celebration for Britain's National Drink and see what some breweries are doing Fuller's and Greene King initiatives for Cask Ale Week
Cask Ale Week is all about encouraging more people to try the delights of real ale. CAMRA is asking all members to encourage at least one friend or family member who has not tried real ale before to give it a try during this campaigning week.
CAMRA is offering 20 copies of the brand new 2013 Good Beer Guide, launched 13th September 2012, to the best photographs we receive of you and your friends enjoying their first (or one of their first!) real ale during the week.
All you need to do is email your pictures to ku.gro.armac@gnitekram with the names of the people in the photograph, what real ale/s you are drinking and which pub you are in.
Winners will be announced on the http://www.camra.org.uk/ncaw website w/c 8th October 2012.
What else is happening in Cask Ale Week?
Please visit http://www.camra.org.uk/ncaw or http://www.caskaleweek.co.uk to find out what else is happening across Britain to celebrate Britain's fantastic real ale industry!
21st September 2012
The Oct-Nov 2012 edition of London Drinker magazine is now available to download as a pdf file, go to London Drinker Magazine 2012 Also updated is the latest London Beer Festivals and LocAle Pubs & Clubs lists.
17th September 2012
Jane Jephcote writes: "Friday 28 September 2012 marks the 20th anniversary of the first London Pubs Group crawl which I attended as an ordinary CAMRA member. The crawl included seven pubs in Belgravia and Knightsbridge all of which, remarkably, still exist as pubs. Therefore we are fitting in an extra anniversary crawl, visiting the same pubs in the same order (I think) as on 28 September 1992. The following should be taken into account, however. First - in 1992 28 September was a Monday so the pubs were not very busy; second - there were fewer attenders than we usually now have on London Pubs Group crawls; third - many of the pubs included have become more upmarket since 1992 and are popular with the affluent local working and residential population. Please don't let all that put you off coming on the crawl - I just wanted to warn in advance." For full details London Pubs Group Anniversary Evening Crawl of Belgravia and Knightsbridge.
4th September 2012
Details of London Pubs Group Daytime Crawl of Ilford and beyond have just been released.
31st August 2012
Local residents and campaigners, including the East London and City Branch are alarmed at the possible threat to The Birkbeck Tavern. Concerned pub-user Jess Dickenson writes as follows: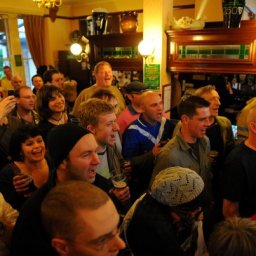 "If you've ever lamented the decline of old-school drinking establishments with genuine character or felt sad and frustrated as community interests are relentlessly sacrificed for commercial gain, then this one's for you.
This one's for anyone who's ever enjoyed sitting in a traditional British pub, a knees-up in a proper East-End front-room style boozer, or simply wondered who on earth their neighbours are.
Maybe you can't figure out where all the cool and interesting hang-outs disappeared to. Perhaps you'd like to be allowed to choose what's best for your area or what should remain part of our cultural heritage now and again. Please sign this petition to help us stop The Birkbeck Tavern from being bought by property developers who want to turn it into flats and make themselves loads of money without considering the long-term impact on the local community and the musicians and artists who regularly appear here.
Let's make a collective two-fingered salute on an even bigger scale than John Lennon's face in the Olympics closing ceremony on behalf of pubs everywhere before the extinction of this wonderful British institution confines us to a standardised, itemised, sanitised Wetherspoonian world of hell."
For more detail including a link to the on-line petition go to https://www.facebook.com/SaveTheBirkbeckTavern
30th August 2012
Details of a London Grand Cider Crawl have just been released so if you fancy a drop of the apple and pears stuff be sure to come along.
14th August 2012
At last week's successful Great British Beer Festival it was great to announce London's brewing scene revitalised, a great time for cask beer drinkers in the capital.
3rd August 2012
CAMRA has released details of its 2012 Super Regional Conference Agenda to be held at Questors on 1st Sept.
24th July 2012
Latest list of CAMRA and other beer festivals now on-line at London Beer Festivals as is the full list of LocAle accredited London pubs at LocAle Pubs & Clubs
23rd July 2012
The August-September edition of London Drinker magazine is now available to download as a pdf file London Drinker Magazine Aug-Sep 2012
18th July 2012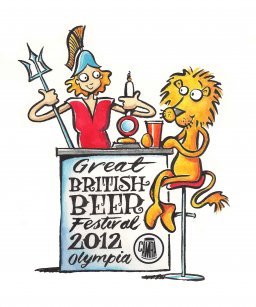 Anticipation is building for the forthcoming Great British Beer Festival http://gbbf.org.uk/ and one of its great features is the Auction which takes place on the main stage. This year there are some very special brewery trips up for bidding - and one is of especial interest to Londoners - http://www.camra.org.uk/page.php?id=806
8th July 2012
Details have been released on CAMRA's Super-Regional Conference to be held at Questors Theatre on 1st Sept. For more detail go to the Regional Diary CAMRA Super-Regional Conference. And find out more about what's brewing in West London at The Exotic Moncada
3rd July 2012
Something exciting is happening in East London this summer and it's not the Olympics. London Fields Brewery is doing a series of experimental collaboration brews, for more London Fields events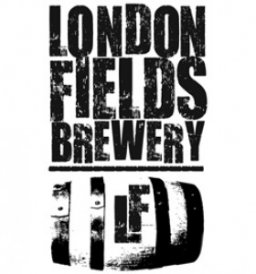 2nd July 2012
The Old Mitre No 1 Ely Court, Ely Place, EC1N 6SJ has just announced details of its weekend openings later this month and into August. The pub is usually closes at weekends so this is a rare chance to get in at a weekend. Open Sat/Sun 28th/29th July from 12-6pm Sat/Sun 4th/5th August from 12-6pm Sat/Sun 11th/12th August from 12-6pm
27th June 2012
Time to start planning for next week's Ealing beer and cider fest - for more detail click on London Beer festivals in the left-hand margin.
19th June 2012
The London Drinker Magazine - 2012 Visitors' Edition is now available on-line as a pdf document.
4th June 2012
With less than a month to go London City of Beer getting nearer supported by a great article in the current edition of What's Brewing.
29th May 2012
The downloadable version of the June - July edition of London Drinker Magazine has now been added to the website alongside the final version of Capital Pubcheck Update 224 May 2012 final and details of London Pubs Group Daytime Crawl of Petts Wood, Bromley, Catford and Forest Hill are now available, why not come along?
16th May 2012
Record number of new LocAle accreditations
This month's London Drinker magazine will show a massive growth in the number of London pubs accredited under the LocAle Pubs & Clubs banner. 21 new joiners are welcomed, for more detail...LocAle Pubs May 2012 and Capital Pubcheck Update 224 May 2012 final now available
Sambrook's announce new exclusive beer for June..London Breweries
10th May 2012
London Beer & British Food Comes Together in Celebration
This summer will see an influx of visitors to London and some will be interested in London's pubs and breweries just like the visitors to this website. CAMRA's London branches are bringing together a campaign to showcase what London has on offer with the objective of raising the profile of beer and pubs. See London City of Beer to find a number of events, which are open to all, take a look. Breweries are informing us events such as open days and evenings including Sambrooks and Redemption Breweries; more to follow. There are a number of pub crawls, both guided and self guided, and beer festivals. This list will grow over the next few weeks.
10th May 2012
If you would like to meet Angelo Scarnera and visit the Brew Wharf brewery and two other London breweries, Sambrook's and Kernel, are hosting a unique three London brewery visit on Saturday 8th September. Each session a place will be auctioned at this year's Great British Beer Festival at Olympia (7-11 August). For more....Brew Wharf
20th April 2012
Greens support CAMRA "London, City of Beer" initiative Greens support CAMRA "London, City of Beer" initiative
20th April 2012
The beer duty escalator was introduced by the last Government in 2008, and is currently in place until 2014/15. It means that beer duty is automatically increased by 2% above inflation every single year. As a result, tax on beer has gone up by over 40% since 2008. You now pay over a third of your pint on tax.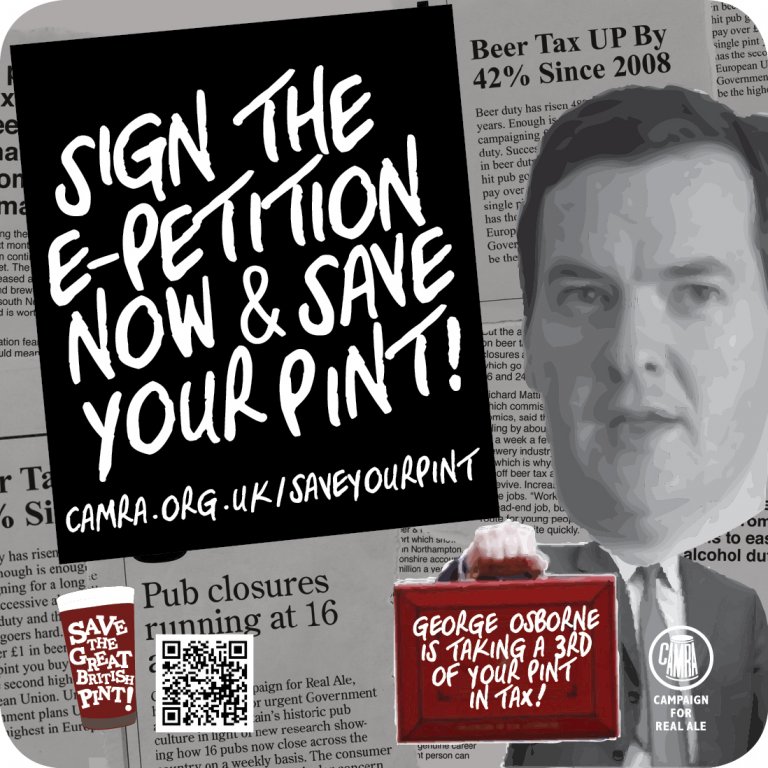 Any more increases in beer duty will increase the pressure on pubs already struggling to survive and damage the long term ability of the beer and pub sector to continue contributing over £6 billion a year in duty and VAT, and over £21 billion to the UK's GDP.
CAMRA is calling for the Chancellor to abandon the unfair beer duty escalator in the next Budget. To show your support sign the e-petition http://saveyourpint.co.uk/
19th April 2012
The London Hop Shoot Festival One Week To Go, for more....
http://www.londonbrewers.org/the-london-hop-shoot-festival-one-month-to-go/
14th April 2012
Beer writer, blogger and Good Beer Guide editor Roger Protz hits out at sponsorship of Olympics by Heineken, for more go to
http://protzonbeer.co.uk/news/2012/04/13/going-dutch-at-olympics-heineken-has-sole-rights
7th April 2012
Detail of the April London Pubs Group crawl to which all are welcome are now available at http://www.camralondon.org.uk/viewnode.php?id=1899
5th April 2012
Pubs across London are announcing details of events to be held in London during Community Pubs Month. These include The Old Dairy 1-3 Crouch Hill, N4 4AP, The Boaters Inn, Canbury Gardens, Kingston, KT2 5AU and Hoopers, 28 Ivanhoe Rd., SE5 8DH. For more detail go to Community Pubs Month April 2012
With the launch of Community Pubs Month, CAMRA is urging local communities this April to back their local licensees and give them the support they need during these difficult economic times. Pubs are the original social networking sites, and will continue to provide an invaluable community service as long as they are used by the local people that surround them.
CAMRA's new campaign is all about reaffirming the vital importance of local pubs, and the essential role they play in many people's lives. CAMRA's research shows people turn to their local pub during meaningful events, so whether you are a real ale lover, or someone who enjoys the weekly quiz down your local, pubs are a core part of our identity and heritage.
The latest edition of London Drinker magazine has now been added (click on London Drinker magazine in the left-hand margin) as have details of forthcoming beer festivals (click on London Beer Festivals in the left-hand margin) and the latest list of accredited LocAle pubs (click on London Pubs in the left-hand margin).
28th March 2012
London City of Beer website goes live! CAMRA London is pleased to announce that its website dealing with the festivities planned for 2012's London City of Beer is now live. Click on the page in the left hand margin to find out more.
26th March 2012
The latest edition of London Drinker magazine has now been added (click on London Drinker magazine in the left-hand margin) as have details of forthcoming beer festivals (click on London Beer Festivals in the left-hand margin) and the latest list of accredited LocAle pubs (click on London Pubs in the left-hand margin).
15th March 2012
CAMRA National Club of the Year 2012 - London theatre bar scoops CAMRA national title.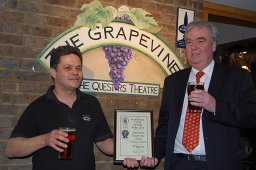 A popular theatre bar in west London, staffed solely by volunteers, has today been recognised as the best club in Britain by CAMRA, the Campaign for Real Ale. The Questors Grapevine Club, situated inside The Questors Theatre, Ealing, has been named CAMRA's National Club of the Year 2012 after a panel of judges were impressed by the Club's focus on supporting local breweries and its dedication to promoting quality real ale to a wide audience. CAMRA's flagship clubs competition is organised in partnership with the trade publication Club Mirror. For more London theatre bar scoops CAMRA national title Picture shows Questors' John Webster (left) accepting the Award from CAMRA's John Holland on a night of celebration in Ealing.
1st March 2012
CAMRA announce Community Pubs Month in April
Community Pubs Month is a national initiative organised by CAMRA to champion the importance of local pubs. CAMRA has been campaigning for over 40 years to support pubs in the wake of rising costs, underinvestment, threat of demolition, property developers and more, and with 16 pubs closing on a weekly basis, the future of the great British pub is at stake. For more..Community Pubs Month April 2012
22nd February 2012
The London Branches of CAMRA launch London - City of Beer. For full detail of this exciting event, go to the dedicated website which will be available very soon.